National Assembly Chairman to attend AIPA-44, visit Indonesia, Iran
VGP - Chairman of the National Assembly (NA) Vuong Dinh Hue will attend the 44th General Assembly of the ASEAN Inter-Parliamentary Assembly (AIPA-44) and pay official visits to Indonesia and Iran from August 4-10.
August 01, 2023 2:49 PM GMT+7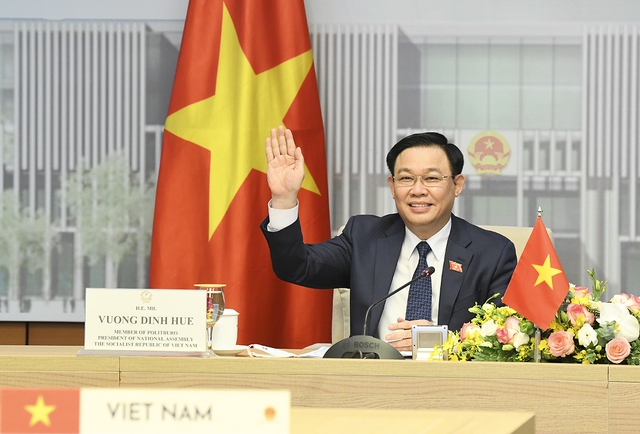 His tour will be made at the invitations of Speaker of the Indonesian House of Representatives and AIPA President Puan Maharani; and Speaker of the Parliament of Iran Mohammad Baqer Qalibaf.
Since officially joining ASEAN on July 28, 1995, Viet Nam's foreign policy toward ASEAN has become an important part, reflecting a fundamental development in its foreign strategy.
During the last 27 years, the nation has proactively and responsibly participated in building the people-centered ASEAN community, affirming its center role in the region.
Viet Nam assumed the rotating chairmanship of ASEAN in 2010 and 2020; and the country successfully organized the 6th, 17th and 36th ASEAN summits in 1998, 2010, and 2020; the World Economic Forum on ASEAN (WEF on ASEAN) in 2018; the 41st AIPA in 2020; and the ASEAN high-level forum on sub-regional cooperation for sustainable development and inclusive growth in 2021.
As ASEAN member countries, Viet Nam and Indonesia established diplomatic relations in 1955 and the latter was the first country in Southeast Asia to establish diplomatic ties with Viet Nam.
In 2013, the two countries upgraded their bilateral relationship to strategic partnership.
Viet Nam is Indonesia's sole strategic partnership in Southeast Asia. The two countries have signed many cooperation agreements, including the plan of action to implement the strategic partnership for the 2019-2023 period.
In ASEAN, Indonesia is Viet Nam's third largest trading partner and Viet Nam is Indonesia's fourth largest trading partner.
With US$11.5 billion in 2021, bilateral trade exceeded US$10 billion for the first time. In the first ten months of 2022, the figure reached US$11.6 billion.
Indonesia has maintained its position as Viet Nam's fifth largest foreign investor in ASEAN and at 29th in the world, with US$611.7 million in 101 projects, primarily in the fields of manufacturing and accommodation.
Viet Nam has 17 investment projects in Indonesia with total registered capital of US$59 million in trade, information technology, agriculture and industry.
The year 2023 witnesses the 50th anniversary of the establishment of diplomatic relations between Iran and Viet Nam.
Over the past 50 years, these relations have been formed on the basis of the three components of respect, development of bilateral relations in the political, economic, and cultural fields, and reciprocal constructive cooperation in multilateralism./.