NASC questions quality of issued legal documents
VGP – The National Assembly Standing Committee interpellated Cabinet members regarding the quality of issued legal documents during its on-going meeting on Tuesday.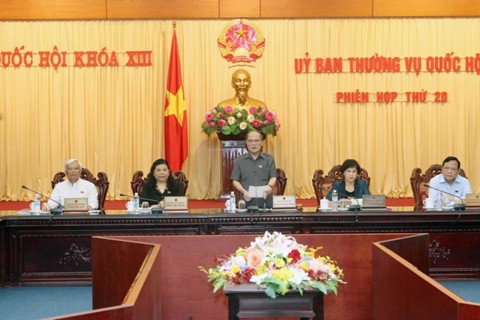 Photo: VGP
In the morning, Minister of Justice Ha Hung Cuong answered questions on his ministry's responsibilities for verifying legal documents before submitting to the Government and the Prime Minister for approval.
He also explained about the ministry's task of inspecting the promulgation of legal documents by ministries and agencies since the beginning of the 13th National Assembly.
Minister-Chairman of the Office of Government Vu Duc Dam and Minister of Home Affairs Nguyen Thai Binh were asked to explain more about the issue.
In a bid to seek ways to raise the quality of issued legal documents, the Ministry of Justice had organized a conference last week to review the verification of legal documents since 2009.
According to the Ministry, since the introduction of the 2009 Law on Promulgation of Legal Documents, the quality of legal documents has been significantly improved. It however admitted that the contents of a number of documents are unfeasible and impractical.
At last month's Cabinet meeting, Prime Minister Nguyen Tan Dung had tasked inferior levels to focus on raising the quality of legal documents through enhanced coordination and thorough consideration.
The 20th meeting of the National Assembly Standing Committee is taking place from August 12-22, during which six bills have been brought to discussion.
The bills include the draft Law on entry, exit and residence of foreigners in Viet Nam; the Law on amendments and supplements to the Customs Law; and the Law on amendments and supplements to the Construction Law.
The NA Standing Committee also debated on decrees to regulate horse, greyhound racing, international football matches and casino business; and the Committee's Resolution on amendments and supplements to some articles of the Resolution No. 928/2010/UBTVQH10 on taxes for natural resources./.
By Huong Giang