NA's standing body discusses monetary, credit management bills
VGP – The NA Standing Committee (NASC) today considered NA deputies' comments on the Bills on State Bank and on Credit Organizations, the two legal documents which will help to perfect the management over monetary and credit activities.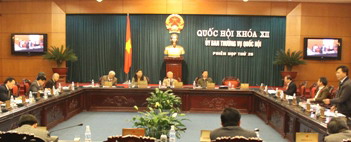 The NA Standing Committee focuses its December 17, 2009 discussions on the State Bank and credit organization bills – Photo: VGP/Lê Tuấn

Regarding the draft law on State Bank, most of deputies were unanimous that it is necessary to highlight the State management of the State Bank and build up this special institution as a modern central bank with high self-control and independence.

The Bill should pay attention to the State Bank's function of outlining, managing and enforcing monetary policies, they said.

The State Bank will be empowered to fix benchmark interest rates and intervene in interest rate mechanisms of credit organizations in order to stabilize the monetary market and macro-economy.

The Bill on Credit Organizations with important revisions was considered as a legal foundation for correcting weaknesses in current credit activities.

About the percentage of shares in credit organizations, many deputies proposed higher rates compared to the Bill in order to help these organizations attract strategic shareholders.

Some suggested that commercial banks should be allowed to purchase shares of credit organizations.

The NASC reached a high consensus on the regulation that foreign banks and their branches are not permitted to provide loans for the purchase of stocks.