NA Chairman holds talks with Czech Senate President
VGP – President of the Senate of the Czech Republic Milan Stech spoke highly of Viet Nam's socioeconomic development achievements during his talks with NA Chairman Nguyen Sinh Hung in Ha Noi on Sunday.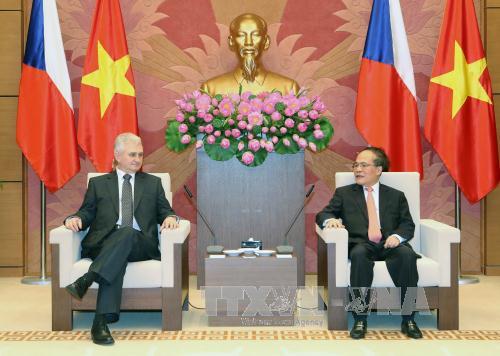 National Assembly Chairman Nguyen Sinh Hung (R) and President of the Senate of the Czech Republic Milan Stech (L), Ha Noi, November 15, 2015 - Photo: VNA
Mr. Milan Stech, who is now on an official visit to Viet Nam from November 15-20, expressed his belief that the Viet Nam-Czech Republic relations will continue the development course, contributing to the expansion of cooperation between Viet Nam and the EU as well as between the Czech Republic and ASEAN.
He highlighted the dynamic role and contributions of the Vietnamese community which was recognized as an ethnic minority in the Czech Republic.
NA Charman Hung hopes that the Czech Republic will continue speeding up the EU's ratification of the Viet Nam-EU Partnership and Cooperation Agreement.
The Vietnamese National Assembly will do its utmost to further beef up the bilateral ties for the sake of the two nations, affirmed the top Vietnamese legislator.
He called on Czech businesses to expand investment in Viet Nam as the Southeast Asian country is offering numerous incentives.
By Huong Giang