More than 400 SOEs to be equitized by 2015
VGP - A total of 432 State-owned enterprises (SOEs) will be equitized during the 2014-2015 period, which means 216 enterprises will go equitization a year.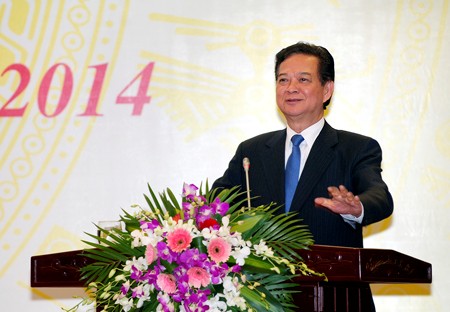 PM Nguyen Tan Dung
The figure was released at a conference on restructuring SOEs held by the Government in Ha Noi on February 18.
Criteria to classify 949 wholly foreign-invested enterprises which are operating in Vietnam should also be adopted, said the conference.
Reports presented at the conference revealed that during the 2011-2013 period, 180 SOEs nationwide were rearranged with 99 equitized, which was said to be low.
As the result, the target of equitizing the remaining SOEs became urgent.
Experts called for the need to soon issue regulations on the management and inspection of State economic groups and corporations along with supervising the implementation of strategies and plans.
SOEs have been asked to apply modern business administration standards and accelerate the application of scientific and technological advances in order to cut costs and improve productivity.
Within this month, the Government will issue a regulation allowing state-owned enterprises to sell stakes below book value to quicken the restructuring process./.
By Ngoc Van