More resources should be mobilized for humanitarian activities in Asia-Pacific: Deputy PM
VGP - Deputy Prime Minister Tran Luu Quang suggested countries, international and regional organizations, and stakeholders should give high priority to and mobilize more resources for humanitarian activities in the Asia-Pacific region.
November 21, 2023 5:37 PM GMT+7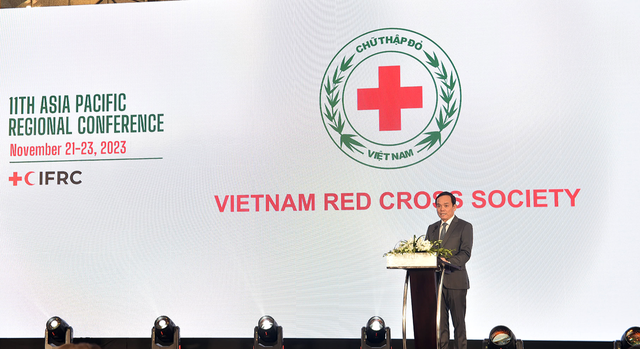 The Deputy Prime Minister made that suggestion while addressing the opening ceremony of the 11th Asia Pacific Regional Conference of the International Federation of Red Cross and Red Crescent Societies (IFRC) that took place in Ha Noi on November 21.
The event saw the participation of Vice President of the IFRC Maha Barjas Al-Barjas, Secretary General of the IFRC Jagan Chapagain, Vice-President of the International Committee of the Red Cross (ICRC) Gilles Carbonnier, and leaders of the Red Cross and Red Crescent Societies from 60 nations in the region.
Asia-Pacific is among regions that are seriously affected by natural disasters, catastrophes and epidemics, particularly the COVID-19 pandemic.
Tran pointed to the fact that resources for humanitarian relief and support activities are insufficient, posing an urgent need to further strengthen international cooperation in strategic planning, resource mobilization and management, and improvement of the effectiveness of humanitarian operations as well as disaster prevention and response.
According to Tran, in addition to common efforts to prevent and resolve the consequences of wars and conflicts, international humanitarian activities need to focus more on effective prevention of and response to non-traditional security challenges such as disasters, natural disasters, and epidemics.
He called on the international community to make greater efforts in prevent conflicts and wars, reduce poverty, and promote equitable, sustainable, and inclusive development; ensuring that no nation, and no community is left behind in the process of human development.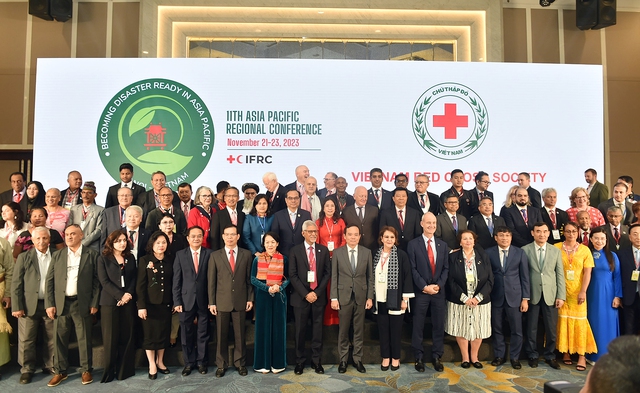 The Deputy Prime Minister took the occasion to express thanks to the IFRC, ICRC, international organizations and associations for their effective and invaluable assistance for Viet Nam, particularly during the fight against the COVID-19 pandemic.

This is the second time the Viet Nam Red Cross Society has hosted the event, which creates an opportunity to boost cooperation between the association and international organizations, partners and businesses operating in Viet Nam.
The event is also an opportunity to introduce and promote the achievements, culture, country and people of Viet Nam and learn from experience, expand relationships, and mobilize resources for humanitarian goals and social security, demonstrating the nation's responsibility for humanitarian and global movements./.