More flood-resilient houses handed over to poor households in Quang Binh
VGP - The United Nations Development Program (UNDP), the Quang Binh Department of Planning and Investment, and the World Share handed over 73 new storm- and flood-resilient houses to poor and near-poor households living in disaster-prone areas.
December 15, 2022 3:18 PM GMT+7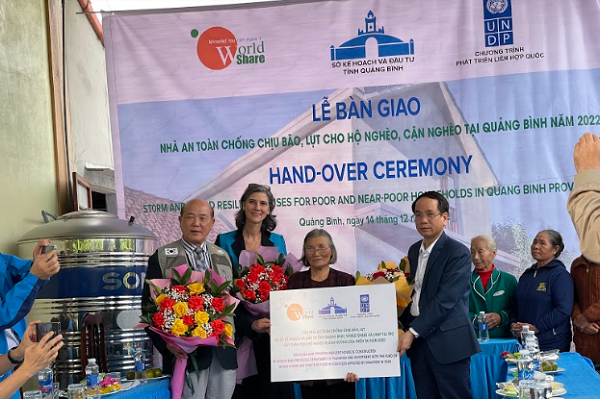 Since 2021, a total of 112 resilient houses have been built within the framework of this tripartite cooperation.
Quang Binh is one of the provinces that often suffers from disasters. In October 2022, Storm No. 4 caused flooding in 40 places and triggered seven landslides affecting traffic routes. Several regions were isolated and inundated, especially in Minh Hoa, Tuyen Hoa, and Quang Ninh districts, and hundreds of homes were flooded across the province.
The People's Committee of Quang Binh province hopes that in the coming time, the donors will continue to care for and support the poor people of our province, helping to provide them with long-term stability and contributing to sustainable eradication of hunger, poverty reduction, and especially disaster risk reduction, said Vice Chairman of the Provincial People's Committee Phan Manh Hung at the ceremony.
According to a recent study on resilient housing conducted jointly by UNDP and the Ministry of Construction, over 110,000 families across 28 provinces still live in unsafe housing conditions, including more than 25,000 families in coastal districts. Of these, at least 1,000 are located in the six coastal districts of Quang Binh province.
This contribution by World Share provides practical support that improves the resilience of local poor and near-poor families to climate change shocks, highlighted UNDP Resident Representative in Viet Nam Ramla Khalidi.
In addition to these 112 resilient houses, since 2018 UNDP and the Government of Viet Nam have built 897 storm- and flood-resilient houses in Ba Don, Bo Trach, Le Thuy, Quang Ninh, Quang Trach, and Tuyen Hoa districts with support from the Green Climate Fund.