Ministries work together to prevent child drowning
VGP - An inter-sector plan on child drowning prevention during 2022-2030 was inked in Ha Noi on July 25 in response to the World Drowning Prevention Day.
July 26, 2022 10:25 AM GMT+7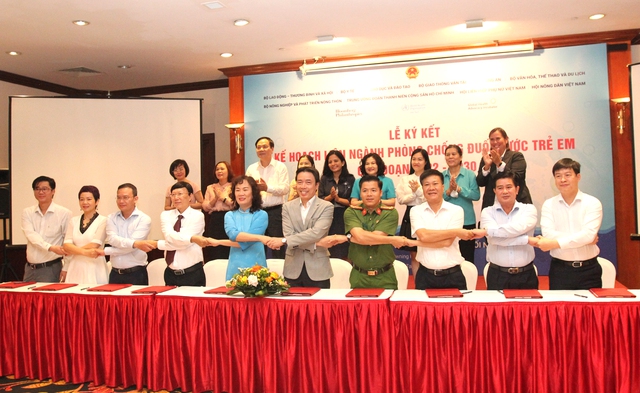 The plan, which will be implemented by the Ministry of Labor, Invalids and Social Affairs (MoLISA), and other nine ministries, aims to reduce the number of children dying from drowning; provide the knowledge or safety skills needed around water for parents and children aged 6-16; build a safe environment at families, schools and community; and collect information and data on drowning accidents at localities.
Addressing the event, Acting Chief Representative of the World Health Organization (WHO) in Viet Nam Socorro Escalante said that, WHO highly appreciates the inter-agency cooperation efforts on child drowning prevention in Viet Nam under the coordination of the MoLISA.
Investing in child drowning prevention today is an investment in the future because it is the young generation who will become the leaders of society, future fathers and mothers, and will continue today's efforts to save the lives of children, she added.
In Viet Nam, drowning is one of the top 10 causes of death for children aged five to 14 years.
Data from MoLISA shows that child drowning has decreased by three to five per cent each year, equivalent to an average reduction of 100 children per year.
However, every year, nearly 2,000 children under 16 years old still die from drowning, the highest rate in Southeast Asia and eight times higher than that in developed countries.
In the first five months of 2022, 38 drowning cases were reported, taking the lives of 113 children and students.
On May 3, Prime Minister Pham Minh Chinh issued Public Telegram No. 398/CD -TT ordering relevant ministries, people's committees, and sectors to beef up measures to prevent drowning among children.
Earlier, on July 19, 2021, the Prime Minister issued a Decision approving the Program on prevention and control of child accidents and injuries in the 2021-2030 period with the goal of reducing the number of children dying of drowning by 20 percent.