Mekong-RoK cooperation advances extensively, says PM Phuc
VGP – Prime Minister Nguyen Xuan Phuc spoke highly of the extensive advancement of Mekong-Republic of Korea (RoK) cooperation over the past nearly decade thanks to the member countries' strong commitments and resolve.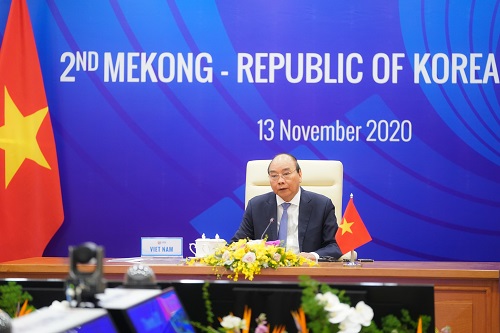 Prime Minister Nguyen Xuan Phuc co-chairs the 2nd Mekong-ROK Summit, November 13, 2020. Photo: VGP
Phuc made the above statement on Friday at the 2
nd
Mekong-Rok Summit attended by Korean President Moon Jae-in and leaders of Cambodia, Laos, Myanmar and Thailand.
He suggested the member countries should give priority to (i) accelerating smart agriculture development through experience sharing and technological transfer, (ii) fostering human high-quality human resource development through scholarship programs and exchange of experts, and (iii) enhancing cooperation in climate change adaptation and management of natural resources.
The summit focused on reviewing the implementation of the Mekong-Han River Declaration adopted at the 1st Mekong-RoK Summit in Busan in November 2019 and chartered orientations for future cooperation.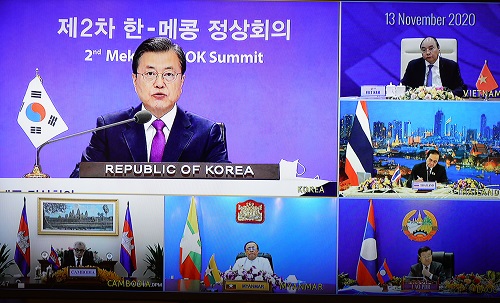 Photo: VGP
The leaders underscored positive achievements in the Mekong-RoK cooperation in seven priority areas, namely culture and tourism, human resource development, agriculture and rural development, infrastructure, information and telecommunication, environment, and non-traditional security challenges.
Leaders of the Mekong countries appreciated RoK's support for the region through the Mekong-RoK Cooperation Fund (MKCF) as well as official development assistance, thus contributing to advancing regional connectivity, sustainable development, and ASEAN Community building process.
Amid the unprecedented challenges posed by the Covid-19 pandemic, natural disasters and climate change, the leaders reaffirmed their determination to bolster cooperation in water resource management and economic recovery.
At the end of the summit, the leaders adopted a joint statement of the 2nd Mekong-RoK Summit and agreed that Cambodia and the RoK will co-chair the next Summit in 2021./.
By Ngoc Van