Mandatory mechanic inspections for new cars abolished
VGP - Newly acquired vehicles shall no longer be required to undergo a mandatory mechanic examination during registration for road use from March 22, according to the Ministry of Transport's Circular 02/2023/TT-BGTVT.
March 22, 2023 5:25 PM GMT+7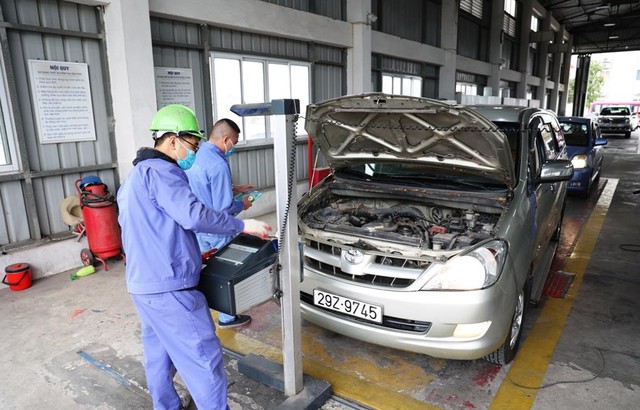 Owners of new vehicles only need to present the vehicle registration certificate to a local registration center to obtain the necessary registration stamps and purchase the road maintenance fees.

The policy shift aims to streamline the registration process and provide greater convenience for individuals and businesses.
The Viet Nam Register agency estimated that each vehicle owner will save from VND250,000-570,000 (US$10.50-24), depending on the type of vehicle, if they are exempt from the first registration fee.
In addition, Circular 02 also adjusts inspection cycles for some vehicles.
The Ministry of Transport also extended the first test cycle for passenger cars with nine seats without a transport business from the previous 30 months to 36 months. For vehicles that have been manufactured for up to seven years, the periodic inspection cycle is extended from 18 to 24 months. For vehicles manufactured longer than seven years to 20 years (previously 12 years), the cycle remains the same for 12 months, and vehicles over 20 years have to be checked every six months.
For passenger cars with more than nine seats in the transport business, the first cycle is extended from 18 to 24 months. Vehicles manufactured up to five years, the periodic cycle increased from six to 12 months. Vehicles older than five years comply with the inspection regulations every six months.
The groups of trucks and tractors with a production time of 20 years or more (including trucks, tractors converted into special vehicles) and trucks modified to convert functions of passenger cars with a production time of 15 years or more can pass the inspection cycle extended from three to six months.
Earlier, 61 out of 281 automobile registration centers in the country had been suspended their operation amid a widening investigation into a systemic corruption case taking place at the Viet Nam Register.
As of March 1, 2023, there are 281 registration centers across the nation with 489 evaluation systems. 59 centers have been suspended, mostly in Ha Noi and HCM City, leading to serious backlog of vehicles waiting for their turns.
National Traffic Safety Committee statistics show that about 548,000 new cars were registered nationwide last year./.