Making Viet Nam's economy greener to make it more competitive: IFC Country Manager
VGP - Making Viet Nam's economy greener will make the country more competitive and improve market access for goods made in Viet Nam, said International Finance Corporation (IFC) Country Manager in Viet Nam, Thomas Jacobs, at the Viet Nam Business Forum (VBF) held on Sunday.
March 20, 2023 4:51 PM GMT+7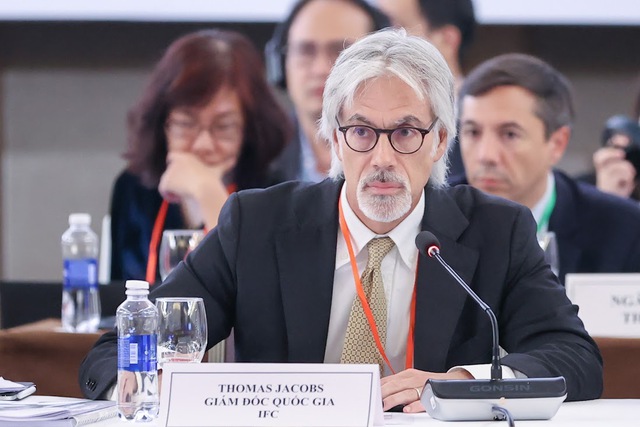 Mr. Thomas Jacobs highlighted the significance of the VBF, which comes at a critical time when Viet Nam, along with much of the world, aims to accelerate its transition to a greener, more sustainable economic model.
A model that promotes growth but minimizes its impact on the environment and addresses risks associated with climate change.
Historically, Viet Nam has contributed very little to greenhouse gas emissions, but the past two decades of high growth have transformed Viet Nam into one of the most carbon intensive economies in East Asia.
Recognizing the need to reduce greenhouse gas emissions and adapt to climate change, Viet Nam made an ambitious commitment at COP26 to reach Net Zero by 2050 and has begun the process of putting this ambition into action.
However, to achieve its goals of becoming a high-income country by 2045 and achieving carbon neutral status by 2050, Viet Nam will need to accelerate efforts to decarbonize its economy, ensure a just energy transition and protect Viet Nam's natural environment.
This transition to a more climate friendly economy will require active collaboration between the public and the private sectors and the financing needs will be very significant indeed.
The World Bank Group Country Climate and Development Report for Viet Nam estimates that a combined resilient and net-zero development path will require additional investments of about 6.8 percent of GDP per year, totaling about US$368 billion through 2040.
And half of this funding need–about US$184 billion–would need to come from the private sector. To mobilize this level of private sector finance will require Viet Nam to address a number of fundamental constraints, said Thomas Jacobs.
Accordingly, the country should improve the legal and regulatory environment to make it faster, cheaper and simpler for the private sector to invest in Viet Nam's main emitting sectors such as energy, transport, agriculture, and manufacturing.
In addition, Conform Power Purchase Agreements for renewable energy to international standards to attract more foreign investment into this critical sector is needed, he said.
Vietnamese enterprises should be allowed to mortgage immovable property to access foreign capital needed for investments in green assets, recommended the IFC Country Manager.

The nation should leverage capital markets to finance climate-smart investments through green, blue, and sustainable bonds–these are structures that can help provide the scale needed to finance Viet Nam's climate agenda.
There is a growing opportunity to promote private sector engagement in carbon markets–first through the voluntary markets but later in the compulsory markets once the enabling environment is fully established.
It will also create opportunities for greater cooperation between the domestic private sector and foreign investors who can bring technical expertise, know-how and advanced technologies for Viet Nam's green economy.
The IFC, along with colleagues in the World Bank Group, are proud to partner with the Government and Viet Nam Business Forum to support private sector development that is more competitive, more inclusive, and greener.
"We aim to help Viet Nam realize its ambitions to become a high-income country and a leader in the green economy", emphasized Thomas Jacobs.