Made-in-VN COVID-19 test kit obtains CE marking
VGP – Phan Quoc Viet, Director of the Viet A Technology Joint Stock Company, said on April 21 that the made-in-Viet Nam COVID-19 test kit, co-developed by the company and the Military Medical Academy, has been certified as meeting European standards by the United Kingdom, whilst obtaining a Certificate of Free Sale (CFS) in Europe.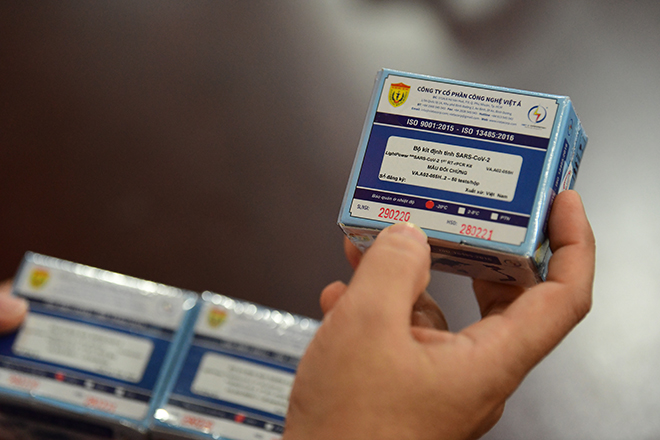 Made-in-Viet Nam COVID-19 test kit obtains CE marking
The aforementioned certification, which was granted by the UK's Department of Health and Social Care, features the following information:
- COVID-19 test kit is produced by: A legal manufacturer under the Viet A Technology Corporation, 378A/8 Ho Van Hue Str., Ward 9, Phu Nhuan district, Ho Chi Minh City, 725600, Viet Nam;
- Authorized representative: REDCLIFFE BIOSCIENCE HOLDINGS LIMITED, 21 Mayfields, Sindlesham, RG41 5BY, United Kingdom.
The product has obtained a CE marking pursuant to the EU's directive on laboratory diagnostic medical devices (98/79/EC), which is equivalently stipulated in the UK's law (the Medical Devices Regulations 2002 – SI No. 618, as amended).
By obtaining a CFS, this SARS-CoV-2 test kit can be sold freely in all member countries of the European Economic Area (EEA), including the UK.
According to Viet, after earning the certification from by the UK Department of Health and Social Care, the product had been exclusively ordered by many partners for distribution in the UK, India, Mexico, the United States and some countries in Europe.
He said that a kit consists of 50 tests and can be used 50 times, meeting all criteria on virus sensitivity, specificity and accuracy. The full timescale for the test kit to produce the result, either negative or positive for SARS-CoV-2, is more than 2 hours.
Currently, the Viet A Company is capable of producing about 10,000 kits per day, and can even increase its capacity by three times if necessary. The production cost of the kit has been funded by the Ministry of Science and Technology, making the price only at around VND400,000-600,000 per test.
In Viet Nam, the Ha Noi People's Committee has also ordered 200,000 tests (equivalent to 4,000 kits) to serve its testing needs and to support Italy.
By Vien Nhu