LG establishes new R&D subsidiary in Viet Nam
VGP - LG Electronics Inc. said Thursday that it is scaling up its research and development (R&D) operations in Viet Nam to respond to a rapidly growing electric vehicle (EV) parts business.
March 09, 2023 8:44 PM GMT+7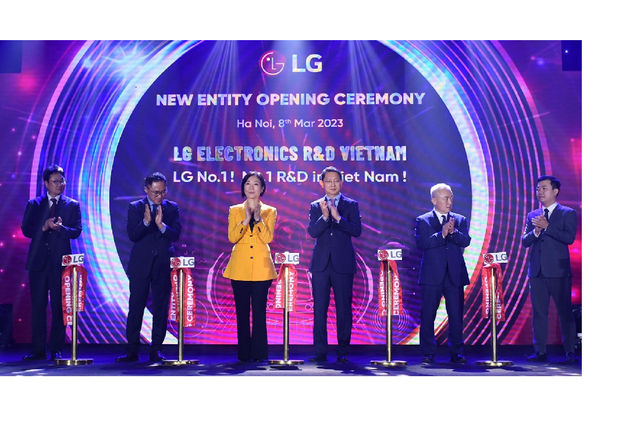 The Korean tech company held a ceremony Wednesday to celebrate the opening of a new entity in Ha Noi, in a bid to further nurture the existing auto parts-focused R&D center, which LG has been running since 2016.
LG's Ha Noi R&D center focuses on software development and inspection of in-vehicle products, including telematics, and audio, video and navigation devices.
The company expects the new entity to strengthen LG's R&D infrastructure and competitiveness in Viet Nam, and said it will increase the number of developers there by more than 30 percent to 1,000 by next year.
In 2020, LG also opened a R&D office for auto parts in the central city of Da Nang to enhance its EV-related business and nurture talent.
Viet Nam's EV market sees great potential
The Vietnamese EV market promises to be more exciting after many years of consumers saying no to hybrid and e-cars, industry insiders said.
Experts believe that Vietnamese people have gradually opened their hearts to green cars. In the next few years, when traffic infrastructure and e-vehicle charging stations are widely available, electric vehicles will be chosen by local users.
Viet Nam's middle class is growing and live in urban areas while e-vehicles meet the criteria of smart cities, thus people are shifting to green cars that help reduce environmental pollution.
In July 2022, the Vietnamese government approved the action plan on green energy transition and reducing carbon and methane emissions in the transport sector.
The action plan's overall goal is to develop a green transport system towards net zero emissions by 2050 as Viet Nam committed to at the 26th United Nations Climate Change Conference (COP26).
From 2030, at least half of all vehicles and all new taxis will be powered by electricity or green energy. By 2050, 100 percent of buses and taxis will use these types of energy.
From now to 2050, the transport sector will gradually develop means of transport and strongly convert all vehicles, transport equipment and infrastructure into electric and green energy-powered vehicles towards net zero emissions.