Leveraging plural values of mangroves for climate change mitigation and adaptation goals
VGP - An international workshop themed "Leveraging Plural Values of Mangroves for Climate Change Mitigation and Adaptation Goals" took place in Hue city of the central province of Thua Thien-Hue on November 21.
November 21, 2023 5:18 PM GMT+7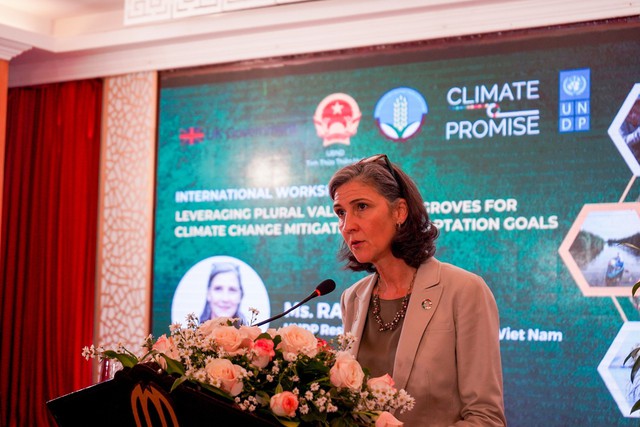 The workshop was jointly organized by the Ministry of Agriculture and Rural Development (MARD), the United Nations Development Program (UNDP) Viet Nam, and Thua Thien-Hue Provincial People's Committee.
The event drew the participation of over 70 on-site and 100 online delegates, including global experts, government officials, and local stakeholders, to explore the multifaceted role of mangroves in environmental and community well-being.
The workshop highlighted the roles of mangrove forests as precious resources for local communities and a significant component of "blue carbon" ecosystems, making them a valuable asset in the context of sustainable carbon financing and climate change mitigation.
It created an opportunity for global south countries to learn good practices and share lessons and experiences relating to mangrove forest management, protection, and development, inclusion of mangroves in the Nationally Determined Contributions (NDCs), and harnessing the potential of mangroves' blue carbon in financing mangroves protection and restoration efforts.
In his remarks, Deputy Minister of the MARD Nguyen Quoc Tri, emphasized the Vietnamese government's dedication to enhancing forest management policies.
He highlighted the importance of improving the effectiveness and economic value of coastal mangrove forests in Viet Nam, urging coastal provinces to reinforce mangrove protection and afforestation efforts.
After this workshop, MARD will continue to direct specialized units to refine forestry policy mechanisms for governmental approval and develop technical guidelines, he said, urging coastal provinces to intensify forest protection and coastal afforestation efforts.
Ms. Ramla Khalidi, the UNDP Viet Nam Resident Representative, praised Viet Nam's leadership in mangrove conservation. She highlighted collaborative projects undertaken with MARD, including the planting and rehabilitating of over 4,000 hectares of mangrove forests and an upcoming project financed by Canada to protect and generate an additional 600 hectares.
She also mentioned the collaboration under UNDP's Climate Promise, supported by the UK Government, to conduct carbon stock assessments across Viet Nam's 28 coastal provinces and identifying sustainable financing pathways and the potential of high-integrity carbon markets under future implementation of the Paris Agreement's Articles 6.2 and 6.4.
The workshop concluded with a consensus on the need for global and local actions to safeguard mangrove forests.
Recognizing their indispensable role in biodiversity conservation, climate change mitigation, and supporting local economies, participants called for enhanced cross-sectoral collaboration, sustainable financing, and the integration of mangrove conservation into national and international climate policies./.