Legislators comment on economic restructuring
VGP – Members of the NA Standing Committee on Thursday commented on the project on economic restructuring in combination with growth model renovation, which aims to create higher efficiency and competitiveness for the economy.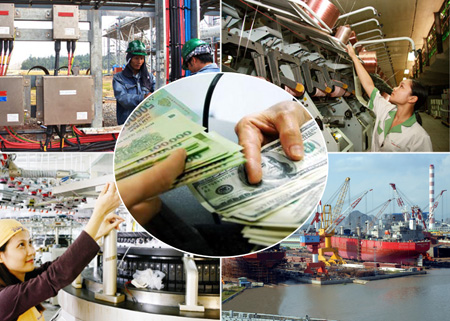 Illustration photo
The project, presented by Minister of Planning and Investment Bùi Quang Vinh, consists of five guiding principles: reasonable and sustainable growth with priority given to growth quality, deployment of synchronous and comprehensive solutions for economic restructuring, continued active economic integration, combination of economic restructuring with modernization and industrialization, and comprehensive growth model.
Minister Vinh said Việt Nam's growth model will be transformed on the basis of the efficient use of resources, increasing labor productivity and improving economic competitiveness.
Economic restructuring and economic structure shifting
Commenting on the project, Chairman of the NA Finance Committee Phùng Quốc Hiển said the Government needs to clarify the differences between economic restructuring and economic structure shifting. In his view, economic restructuring also covers economic structure shifting.
Besides, restructuring the financial market must help overcome "money abundance" disease as it is the signal of inflation and low investment efficiency.
The Government should also develop sets of criteria for warning risks in such areas as public debt, import-export, and labor market, he said.
Chairwoman of the NA Committee for Social Affairs Trương Thị Mai urged the Government to review the feasibility of shifting economic structure of the agriculture sector as the sector's ratio in the GDP only dipped 0.1% in the 2005-2010 period.
Pulling the ratio of agriculture-forestry and aquaculture from the current 20.6% to 15% by 2020 would be an impossible mission, she added.
Improving SOEs' capacity
The legislators agreed that solutions for restructuring State-owned enterprises still remain controversial.
Some argued that the SOEs' role must be renovated to act as a macroeconomic regulating tool. The majority of them said SOEs play a vanguard role in the fields that are beyond the capacity of other economic sectors.
As a result, it needs to adopt criteria for evaluating and supervising SOEs' operations.
Chairman of the NA Council of Ethnic Affairs Ksor Phước called for an assessment of the impacts of the project on socio-economic development in the short and long terms.
By Hương Giang