Korean companies interested in environmentally friendly projects in Viet Nam
VGP – A large number of Korean companies are interested in environmentally friendly projects in Viet Nam and stand ready to cooperate with the Vietnamese Government to reduce carbon emissions, said Kim Han-yong, the President of the Korea Chamber of Business in Viet Nam (KORCHAM).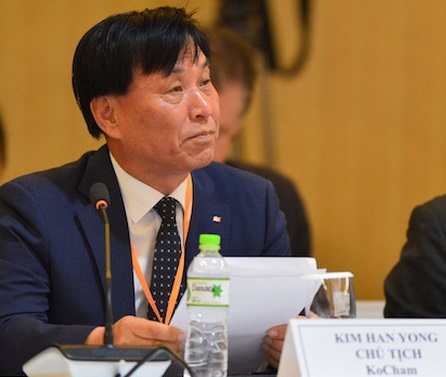 Mr. Kim Han-yong, the President of the Korea Chamber of Business in Viet Nam
The KORCHAM President made the point at an interview with the Government Web Portal as the two countries are celebrating the 49th anniversary of diplomatic ties (December 22,1972 -December 22, 2021.
Upbeat about US$ 100 billion two-way trade goal by 2023
President Kim Han-yong was optimistic that the US$ 100 billion two-way trade goal set by Korean President Moon Jae-in and Vietnamese Party General Secretary Nguyen Phu Trong is entirely feasible by 2023.
He mentioned the recent official visit of Chairman of the National Assembly of Viet Nam Vuong Dinh Hue to the RoK in which the top legislator expressed his aspiration to promote economic and trade cooperation to achieve the goal by 2023.
However, he proposed the two Governments to overcome difficulties caused by the COVID-19 pandemic to achieve the preset goal.
After the Regional Comprehensive Economic Partnership (RCEP) comes into effect in 2022, the President was convinced that the two countries will make full use of this Agreement to further strengthen cooperation.
The President assessed that since the establishment of the diplomatic relations in 1992, over the past 29 years, the bilateral relations have been developed in various fields.
Viet Nam has emerged as the third largest exporter and an important partner of the RoK in the 'New Southern Policy'.
Trade turnover between the two countries only reached US$ 493 million in 1992 when diplomatic relations were established and reached a breakthrough of US$ 10 billion USD in 2010. Then the trade volume surpassed US$ 60 billion in 2017 and reached US$74.1 billion in the first 11 months of 2021.
Especially, the Viet Nam - Korea Free Trade Agreement (VKFTA) took effect in December 2015, laying a stronger and more effective basis for promoting trade and investment as well as economic cooperation between the two countries.
The RoK is the biggest FDI provider for Viet Nam in which more than 9,200 Korean companies have set footholds in the Southeast Asian nation with a total register capital of more than US$ 72.3 billion
Specifically, manufacturing sector remains the most attractive sector for Korean companies with 4,543 projects worth US$ 53.1 billion, accounting for 73.5% of total RoK-funded FDI projects in Viet Nam.
Samsung Electronics, the RoK's leading company has invested US$17.74 billion in Viet Nam over the past 24 years. The company has promoted investment in Viet Nam, including a US$ 220 R&D center in Ha Noi.
In addition, Korean enterprises have invested in various fields in Viet Nam including real estate, distribution, and pharmaceuticals.
Looking for environmentally friendly project opportunities
President Kim Han-yong assessed that the Vietnamese market boasts a high-quality workforce thanks to its abundant population engaged in economic field and enthusiasm for education. Viet Nam is forecast to grow rapidly among Southeast Asian countries and has a large working-age population with an average age of just 30.
"Viet Nam is promoting digital innovation to reach a GDP per capita of US$ 5,000 by 2025 and become a developed country by 2045, so this is a country with great growth potential," the President said.
Korean companies are also interested in engaging in Viet Nam's environmental issues, the 4th industrial revolution and digital innovation.
Since the Vietnamese government is focusing on these policies, KOCHARM, said the President recommend the Vietnamese Government provide policy support so that Korean companies can do business in various fields
SK Group and many other large Korean corporations are expected to increase investment in environmentally friendly areas to reduce carbon emissions together with the Vietnamese government which is developing a government-level strategy related to carbon reduction in the field of digital and eco-friendly.
The President also expected that Korean companies entering Viet Nam will have more opportunities to participate in large-scale infrastructure projects invested by the Vietnamese government, such as railways and roads./.
By Kim Anh