Key policies come into effect in 2018
VGP – A series of policies took effect in 2018 including the Penal​ Code, higher basic wage, and lower mobile phone fees.
New policies take effect in January
New Penal Code enters into force
Since January 1, 2018, the 2015 Penal Code came into effect.
The New Penal Code substantially expands the range of offences, including regulating bribery within the private sector and introducing corporate criminal liability for tax evasion and money laundering. The revisions bring Viet Nam's domestic regime more in line with international laws.
According to the amended code, five felonies including robbery, manufacturing and trading of fake food and medicine, destroying facilities crucial to national security, surrendering to the enemy, and disobeying orders of commanding officers will no longer be subject to the death penalty.
Under the amended code, only the crimes of transporting and trading of narcotics are eligible for the death penalty, while those who stockpile or appropriate the illegal drugs will only face life imprisonment at most.
Additionally, criminals older than 75 years of age or those charged with corruption but had voluntarily submitted 75 percent of their embezzled property will be exempt from capital punishment.
Regional minimum wage increase
Under Decree No. 141/2017/ND-CP, dated December 7, 2017, the regional minimum wages will increase by VND180,000-230,000 ($7.91-10.11), depending on the region, since January 1. (See the table below).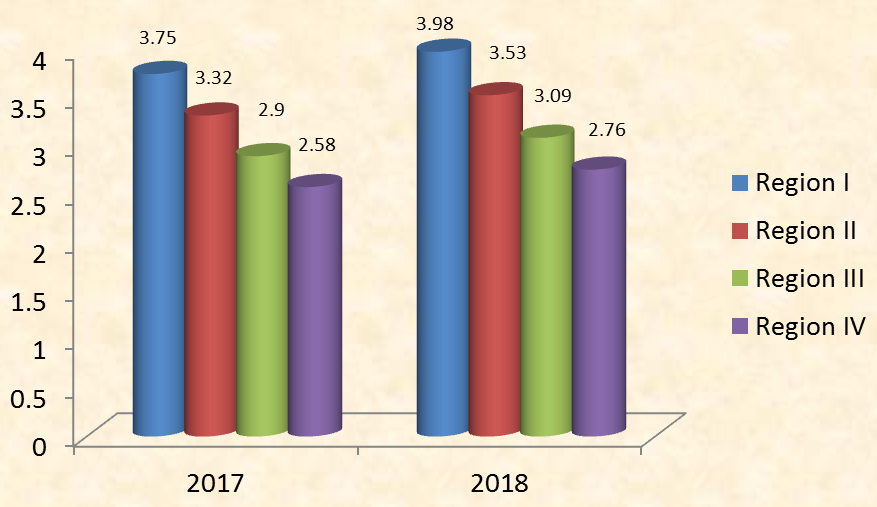 Comparision of regional minimum wages between 2017 and 2018. (Unit: million VND)
Amendments of corporate income tax
Decree 146/2017/ND-CP amends and supplements some articles of Decree 100/2016/ND-CP and Decree 12/2015/ND-CP regulating that life insurance premiums for the employees are deductible; contributions to pension funds and pension insurance are subject to a cap of VND3 million/month/person (instead of VND 1 million in the formal regulation).
In addition, if in a month (for case of monthly declaration), in a quarter (for case of quarterly declaration), a business establishment has exported goods or services including the following cases: imported goods which are then exported to non-tariff areas; and imported goods which are then exported overseas with the input VAT of VND 300 million or more which have been not deducted, it shall be entitled to a monthly or quarterly VAT refund.
Levels of promotion for mobile communication services
The Ministry of Information and Communications issued Circular No. 47/2017 / TT-BTTTT dated December 29, 2017 stipulating the levels of promotion for mobile communication services on the ground.
Under the Circular, which comes into effect since March 1, 2018, the maximum promotion levels for prepaid and postpaid subscribers shall be 20% and 50%, respectively.
Investment for SMEs, innovative startups
Coming into effect since May 1, Decree No. 38/2018/ND-CP dated March 8, 2018 provides detailed regulations on investment for small and medium sized enterprises and innovative startups.
It also covers regulations on organization and management of innovative start-up investment funds and the mechanism for using local budgets to invest in small and medium-sized start-ups.
Increasing basic salary from July 1, 2018
According to Decree No. 72/2018 /ND-CP issued by the Government on May 5, 2018, the new basic salary will increase from VND1.3 million to VND1.39 million as of July 1, 2018, applied for public servants and armed forces.
Higher subsidies for revolutionary persons
The Government issued Decree No. 99/2018/ND-CP regulating the level of allowances and preferential allowances for people with meritorious services to the revolution. This decree came into force on August 27, 2018.
Accordingly, from August 27, 2018, standard level to determine the level of subsidies, preferential allowances for people with meritorious services to the revolution will increase from VND 1.41 million to VND 1.51 million per month.
With the changes mentioned above, the monthly allowance level for people with meritorious services to the revolution has been increased significantly. Heroes of armed forces, Hero in Labor in wartime get VND 1.27 million per month./.
By Huong Giang