JBIC asked to assist Viet Nam in promoting energy transition
VGP – Prime Minister Pham Minh Chinh suggested the Japan Bank for International Cooperation (JBIC) assist Viet Nam in advancing energy transition process in a bid to help the Southeast Asian nation achieve carbon neutrality by 2050.
July 22, 2022 3:14 PM GMT+7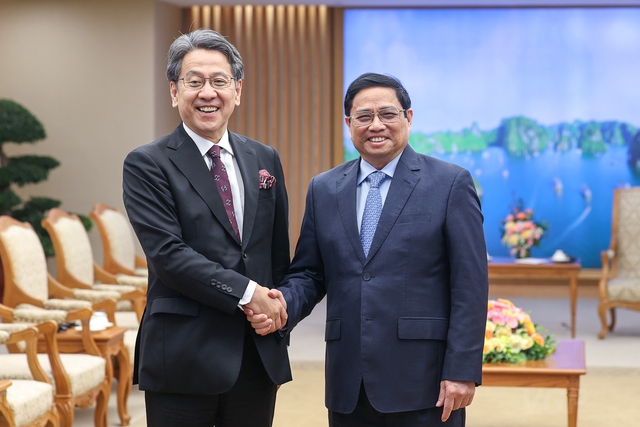 The Government chief made the suggestion during his reception for JBIC Governor Maeda Tadashi in Ha Noi on July 22.

The assistance would cover policy advice, finance, technology, manpower, and experience, Pham said.
He called for JBIC's assistance in development of strategic infrastructures, including feasibility study of a North-South express railway, climate resilient and digital transformation infrastructures, heatlhcare capacity, innovation, and human resource quality.
Pham also asked JBIC to help Viet Nam build a fast-growing, sustainable and increasingly independent economy, and access to the US$10 billion climate funding promised by Japanese Prime Minister Kishida Fumio at the COP26 to aid Asian countries in eliminating greenhouse gas emissions and decarbonisation.
Maeda spoke highly of Viet Nam's deployment of prudent policies to contain the COVID-19 pandemic and reviving the economy, as well as its climate commitments.
At the COP26, Prime Minister Pham Minh Chinh pledged Viet Nam will make use of our own domestic resources, along with the cooperation and support of the international community, especially from the developed countries, in terms of finance and technology, including through mechanisms under the Paris Agreement, in order to achieve net-zero emissions by 2050.
All countries need to make strong commitments on greenhouse emissions reduction, grounded in the principle of common but differentiated responsibilities, respective capacities and circumstances, said Pham, emphasizing that this is imperative to limit the global temperature increase./.