Ireland promotes dairy, pork and seafood exports to Viet Nam
VGP - Within the framework of the Irish Government's trade delegation to visit Viet Nam, on September 7, the Irish Minister of Foreign Affairs in charge of farm safety and new market development, Martin Heydon had an exchange with the press in Ha Noi.
September 08, 2022 7:23 PM GMT+7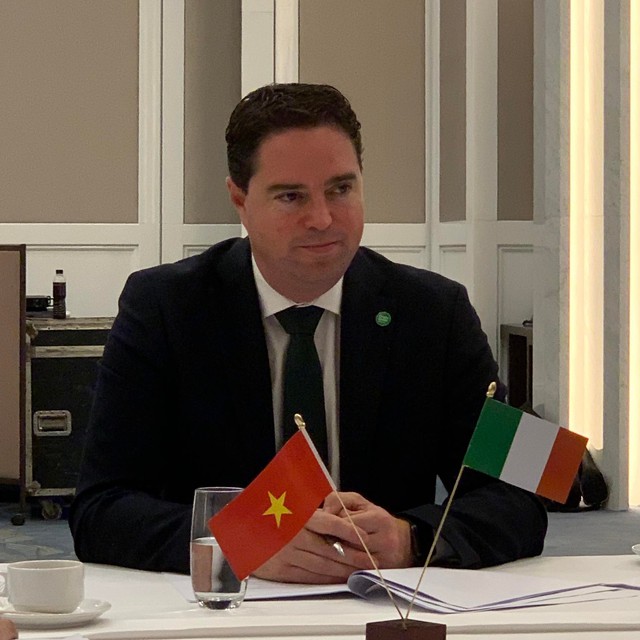 This is the third trip of the Irish Foreign Minister to Viet Nam in the past three months, demonstrating that Ireland attaches importance to trade relations with Viet Nam.

Mr Martin Heydon assessed that the trade relationship between the two countries has numerous potential for development. In particular, the Free Trade Agreement between Viet Nam and the European Union promotes trade activities between countries and connects investment between the business community and the people.
"From January 1, 2023, with the implementation of the commitment of the Viet Nam - European Union Free Trade Agreement, Irish milk exported to Viet Nam will have a tax rate of 0% instead of 15% as at present", Mr Martin Heydon said.
In 2021, Ireland's export turnover to Viet Nam reached 30 million euros, of which dairy exports reached €25 million, seafood reached €4 million, and ready-made foods reached €1 million.
In November 2021, the European Union (EU) selected Bord Bia - Irish Food Board to deliver two 3-year dairy promotional campaigns covering the Vietnamese and broader South East Asian market.
In its Prioritising Markets - Opportunities for Growth study (2017), Bord Bia identified Viet Nam and the wider South East Asia region as priority destinations for Irish food and drink exports, with high potential for dairy exports.
Irish Food Board launches business strategy for South East Asia to raise exports to €800 million by 2025 as part of Irish government trade mission to Viet Nam. Besides dairy products, Ireland wishes to supply the Vietnamese market with pork and seafood - products that Ireland has advantages and is exporting to 180 countries worldwide./.