Investment, trade and tourism in Thanh Hoa province: A colorful picture
VGP – Entering the period of renovation, integration and development, Thanh Hoa has been transforming strongly in terms of both quality and quantity.
March 04, 2020 2:38 PM GMT+7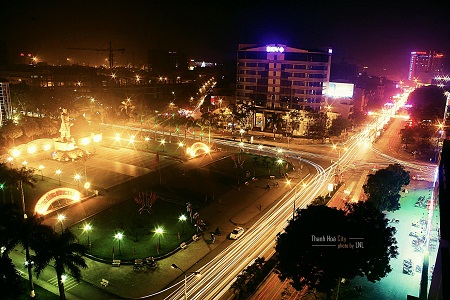 Investment, trade and tourism in Thanh Hoa province: A colorful picture

Thanh Hoa covers more than 11,000 square meters and has a population of 3.6 million people, ranking the fifth nationwide in natural area and the third in population.
The province provides a gateway linking the northern and the central region. It is about 150 kilometers from Ha Noi, and owns a key northern economic zone, featuring a 192 kilometer border line and 102km coastal stretch.
The province's economy has been growing rapidly, while its gross regional domestic product (GRDP) has constantly increased over the periods.
Especially in 2019, the local GRDP growth rate reached 17.15% – 1.9% higher than that in 2018 and the highest growth rate thus far – belonging to the group of provinceswith the highest growth rate.
In new rural development, Thanh Hoa is a bright spot of the country with many good models and effective and practical methods, creating many rural areas worth living in.
The province's industrial production in 2019 continued to expand sharply with an estimated value of VND126.072 trillion (approximately US$5.436 billion), up 32.6% from the previous year.
Many commercial and industrial infrastructure projects have been put into operation, contributing to enhancing Thanh Hoa's production capabilities and socio-economic development.
The service industries continue to develop well, with a number of fields having flourished, particularly tourism and goods exports.
Thanh Hoa has determined the development of the "economic quadrilateral" – Sam Son, Bim Son, Nghi Son and Lam Son – as an important task with the aim of turning these four economic regions with great potential and strength into satellite cities to motivate the province's economic growth.
Economic development has contributed to increasing State budget revenue in the province, with the 2019 collection estimated at VND27.155 trillion (US$1.175 billion), equivalent to 102% of the year's estimate and up 17.1% compared to 2018.
Thanh Hoa is also famous for its beautiful natural scenery and typical historical relic sites, which offers favorable conditions for the province to develop many types of tourism such as maritime tourism, ecotourism, and cultural and historical tourism, thus gradually affirming the position of Thanh Hoa tourism in the north central region and the whole country.
In particular, with its third largest population in Viet Nam, Thanh Hoa currently has more than 2.16 million workers.
This means Thanh Hoa is now in the period of golden population structure with competitive costs, which is a special advantage of the central province.
The abundant and quality human resources have generated a professional workforce that can accompany investors to success.
Favorable policies and open investment environment
The Prime Minister issued Decision No. 1629/QD-TTg approving the task of outlining the province's planning scheme during the 2021-2030 period, with a vision towards 2045.
Accordingly, by 2030, Thanh Hoa will become an industrialised province, with synchronous, upgraded socio-economic infrastructure, suitable with development trends of the region and the country, as well as the Association of Southeast Asian Nations (ASEAN) and the world at large.
The planning scheme must be made on the basis of multidimensional, multisectoral approach, ensuring scientific requirements and applicability, the leader said.
Prime Minister Nguyen Xuan Phuc earlier this year approved the general planning for Thanh Hoa city and Thanh Hoa province's urban master planning up to 2040.
Per the plans, Thanh Hoa urban area which contains Thanh Hoa city as its centre will become a first-tier urban area in Thanh Hoa province.
Urban areas in Viet Nam are categorised according to their development, with the first tier only behind the largest cities of Ha Noi and Ho Chi Minh City.
The master scheme aims to raise the position and status of the Thanh Hoa urban area to become a connectivity area among the North-Central region, the Red River Delta, the Northwest region, and the Northeast region of Laos.
Thanh Hoa city is expected to become a modern urban area, with green growth and adaptation to climate change.
Investors in Thanh Hoa are comprehensively supported. Along with the general policies of the Government, Thanh Hoa has also issued many other preferential policies concerning the areas of land clearance, land lease, corporate income tax, worker training and the building of accommodations for workers.
The new position and potential are creating a momentum for Thanh Hoa to continue speeding up, breaking through and successfully realize the set goals, towards faster and stronger development and increasing prosperity and civilization./.
By Vien Nhu