Investigation Security Force awarded HCM Order
VGP – The Investigation Security Force on December 28 in Hà Nội was conferred on the Hồ Chí Minh Order on the occasion of íts 60th founding anniversary (December 31, 1951 – December 31, 2011).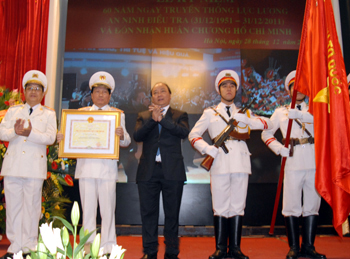 Deputy Prime Minister Nguyễn Xuân Phúc awards the Hồ Chí Minh Order for the Investigation Security Force, Hà Nội, December 28, 2011 – Photo: VGP/Thành Chung
Over the past 60 years, the investigation security force has constantly been one of the forces leading in combating crimes against national security and has always fulfilled all tasks assigned by the Party, the State and the public security sector, said Deputy Prime Minister Nguyễn Xuân Phúc.
The Deputy Prime Minister lauded the positive contributions of the security force to national construction and defense.
Mr. Phúc asked the security force to be fully aware of threats challenging the national security in the new situation and renew its operation to meet higher requirements for national security protection.
Deputy Prime Minister Phúc called upon the security force to build a powerful Party organization, constantly improve itself and study and follow President Hồ Chí Minh's moral example.
On the threshold of New Year, the Deputy Prime Minister wished the force greater achievements deserving the Party and people's trust./.
By Kim Loan