Int'l arrivals surge 34.2% in April
VGP - Việt Nam has welcomed 442,000 foreign visitors, including 280,000 tourists, in April, posting a year-on-year rise of 34.2%, according to the General Statistics Office.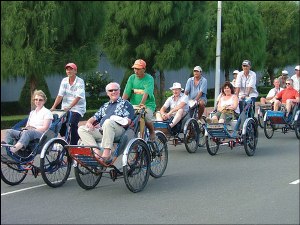 French tourists visit Hà Nội on cyclos

The biggest number of foreign visitors still came from China with 79,800, followed by the Republic of Korea with 45,000, the US with 43,400 and Japan with 38,200.

According to the office, Việt Nam received nearly 1.8 million international arrivals in the first 4 months of this year, up 35.7% against the same period last year. Of the arrivals, 59% are tourists, up 39.5%.

In the January-April period, the biggest number of foreign visitors came from Cambodia with 194,200, up 130%, followed by China with 184,600, up 106.2%.

The Việt Nam National Administration of Tourism is focusing on tourism promotion in China, Northeast Asia, ASEAN, Northwest Europe and North America.

According to a national tourism development plan, the tourism sector targets to welcome 7-8 million international arrivals, 32-35 million domestic visitors, and gain tourism revenues of US $10-11 billion in 2015. The respective figures for 2020 are 11-12 million, 45-48 million and US $18-19 billion.