Indicative of consistent pursuit of foreign policy
VGP – The Ministry of Foreign Affairs has confirmed Prime Minister Pham Minh Chinh's attendance at the Special ASEAN-U.S. Summit slated for May 12-13 to mark the 45th anniversary of the sides' relations.
May 09, 2022 5:23 PM GMT+7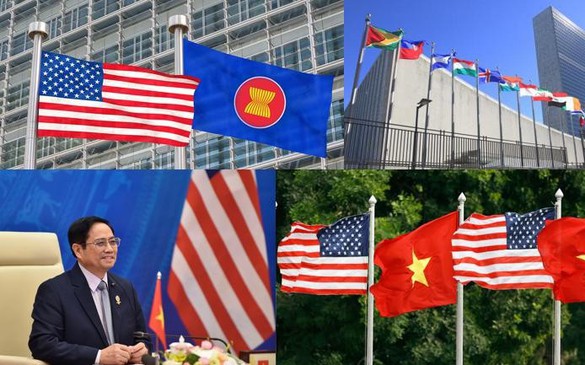 On the occasion Prime Minister will also the U.S. and the United Nations from May 11-17.

The tour indicates that Viet Nam's consistent pursuit of its foreign policy of independence, self-reliance for peace, friendship, cooperation and development, multi-lateralization and diversification of external relations on the basis of the fundamental principles of the United Nations Charter and international law, equality and cooperation for mutual benefits.
Viet Nam is determined to build an independent and self-reliant economy based on multi-lateralizing and diversifying its economic relations in its course of proactive and in-depth international integration.
For enhanced ASEAN-U.S. relations
Since its establishment in 1977, the ASEAN-U.S. dialogue relations has evolved from exchange of views on political and security issues to a wide range of cooperation areas.
The U.S. has engaged with ASEAN through its active participation in various mechanisms, including the annual ASEAN-U.S. summit, East Asia Summit, and ASEAN Regional Forum.
At the 3rd ASEAN-U.S. Summit in November 2015, leaders of the two sides announced the elevation of the ASEAN-U.S. dialogue relations to strategic level.
The U.S. is the largest trading partner of ASEAN with total trade turnover estimated to reach US$362 billion last year, doubling that of 2009. The U.S. has also been the biggest source of foreign direct investment for ASEAN for years.
Building on the aforesaid backgrounds, this year's summit is the continuation of high-level engagement between ASEAN and the U.S.
During the summit, the leaders are expected to review the outcomes of bilateral cooperation over the past 45 years and charter orientations for future cooperation, and exchange views on regional and international issues of shared concerns.
The leaders are expected to have in-depth discussions on such topics like economy, trade, investment, maritime security, post-COVID recovery, climate change, energy, sustainable infrastructure development.
Viet Nam's participation in the summit aims to further foster the strategic partnership for sustainable peace, stability and prosperity in the region and the world.
This is also an opportunity for Prime Minister Pham to meet in-person with leaders of ASEAN member states to discuss ways and means to step up bilateral cooperation.
Great strides in Viet Nam-U.S. relations
There have been great strides in the Viet Nam-U.S. relations after more than 20 years of normalization of diplomatic ties.
Both countries lifted up the bilateral ties to comprehensive partnership in 2013. The U.S. has affirmed on multiple occasions that it supports Viet Nam's independence and prosperity and wishes to further elevate the relationship with Viet Nam to a new height.
The two-way trade has grown in a fast and stable manner to US$11 billion last year, an increase of nearly US$21 billion from 2020.
American investors have pledged to pour more than US$10 billion in 1,135 projects in Viet Nam, ranking 11th out of 141 countries and territories investing in the Southeast Asian country.
The American side stands ready to boost cooperation with Viet Nam in such priority areas as infrastructure development, supply chain, energy, and digital economy.
Both countries have actively cooperated in the fight against COVID-19 and post-pandemic recovery, with the U.S. having donated nearly 40 million vaccine doses and a large volume of medical supplies to Viet Nam.
The two sides have also maintained and strengthened cooperation in defense, security and settlement of war consequences, climate change, education, as well as collaboration in international issues of shared interests.
Significance of Viet Nam-United Nations relations
Since joining the United Nations in September 1977, Viet Nam has been a responsible and proactive member of the international organization, prominently in realization of the United Nations-led sustainable development goals and peacekeeping operations.
The Southeast Asian nation has successfully fulfilled the roles as member of the United Nations Human Rights Council for the 2014-2016 tenure, member of the United Nations Security Council for the 2008-2009 and 2020-2021 tenures.
The United Nations system has played an important role behind Viet Nam's development course, offering more than US$423 million to help the country between 2017 and 2021.
Since the outbreak of the COVID-19 pandemic, Viet Nam has received about 50 million COVID-19 vaccine doses through the COVAX facility, far beyond the previously committed volume of 38.9 million doses, and medical supplies worth US$45 million.
For its side, Viet Nam suggested the United Nations General Assembly to approve a resolution drafted by Viet Nam to declare December 27 as the International Day of Epidemic Preparedness.
The country also contributed US$50,000 to the United Nations COVID-19 Response and Recovery Fund and US$1 million to the COVAX facility.
At the 26th United Nations Climate Change Conference, Prime Minister Pham Minh Chinh announced Viet Nam's commitment to achieve net-zero emissions by 2050.
On peacekeeping operations, Viet Nam has sent 493 officers from the People's Army to join United Nations peacekeeping missions overseas.
Both sides adopted a new strategic framework for sustainable development cooperation for the 2022-2026 period, with a focus on inclusive development, climate change adaptation, economic transformation, with total funding of more than US$542 million, up US$100 million from the previous five-year period./.