Independence-Freedom-Happiness
VGP – President Ho Chi Minh read the Declaration of Independence at Ba Dinh Square on September 2, 1945, proclaiming Viet Nam's independence and the foundation of the Democratic Republic of Viet Nam, now the Socialist Republic of Viet Nam.
September 01, 2019 4:15 PM GMT+7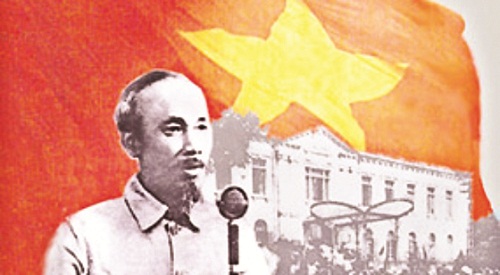 President Ho Chi Minh
The national independence came as result of crystallization of the traditional patriotism and the entire nation's aspiration for independence and freedom, as well as its role in opening up a new era in Viet Nam's history – the era of independence, freedom and happiness.
In the Declaration, President Ho Chi Minh did not only affirm the legal principle of the fundamental rights of the Vietnamese people and peoples in the world but also pointed to the steadfast and staunch struggle of the Vietnamese people for those sacred national rights.
He concluded that Declaration by saying that "Viet Nam has the right to enjoy freedom and independence and in fact has become a free and independent country. The entire Vietnamese people are determined to mobilize all their physical and mental strength, to sacrifice their lives and property in order to safeguard their freedom and independence."
Addressing the 74th anniversary of the National Day on August 29, Prime Minister Nguyen Xuan Phuc said over the past 7 decades, millions of Vietnamese people, standing shoulder-to-shoulder, have held high our national flag, overcoming countless hurdles in the arduous struggle for national independence and reunification.
Viet Nam has made every effort in strengthening international integration, successfully transforming our outdated and war-ravaged economy into a dynamic, thriving one. The Vietnamese economy now constitutes an important link in the network of regional and global economic value and supply chains.
Viet Nam, as an active and responsible member of the international community, has also significantly contributed to peace, cooperation and development.
"While we take great pride in our persevering efforts and these historic achievements, we shall never forget the effective assistance and precious support from international friends and partners, particularly countries and organizations that you are representing today,", said Prime Minister Phuc.
He reiterated the burning aspiration within each of Vietnamese people, yearning for "independence and freedom" throughout our struggle to reclaim the rights to national independence, self-determination and pursuit of happiness.
Following the footsteps of our forefathers, the Vietnamese people are aspiring for "peace and prosperity", and confidently striding towards the "stage of glory" to join major powers and friends around the world, thereby realizing the wish of President Ho Chi Minh before his passing 50 years ago, the Government chief affirmed. - VGP