IMF: VN Successfully Navigating The Pandemic
VGP – The pandemic hit Viet Nam's economy hard, but the nation has taken decisive steps to limit both the health and economic fallout, according to the International Monetary Fund (IMF)'s latest annual assessment of Viet Nam's economy.
March 17, 2021 12:07 PM GMT+7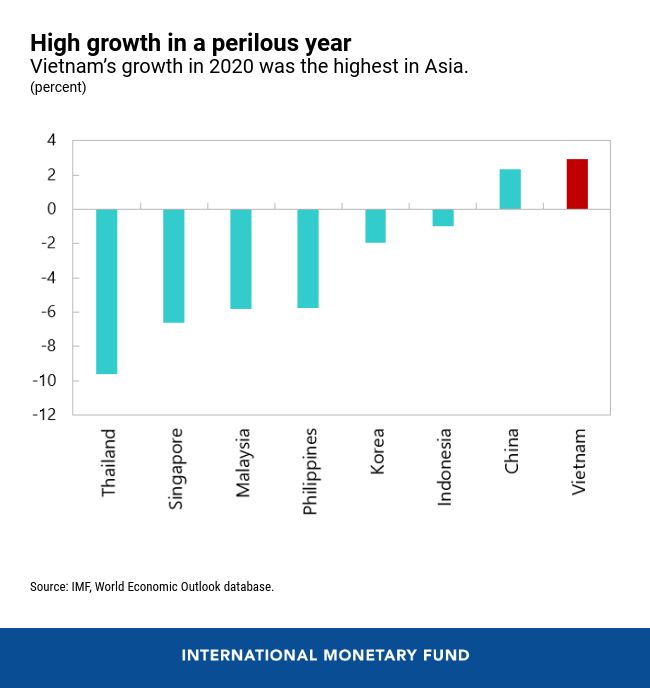 Viet Nam enjoys highest growth rate in 2020 compared to other Asian peers - Source: IMF
Swift introduction of containment measures, combined with aggressive contact tracing, targeted testing, and isolation of suspected COVID-19 cases, helped keep recorded infections and death rates notably low on a per capita basis, the IMF highlighted.
Viet Nam entered the pandemic with solid economic fundamentals and policy buffers, although some structural challenges remain to be addressed, the IMF's annual assessment referred, adding that he country made considerable progress in consolidating public finances prior to COVID-19. The build-up of these fiscal, external, and financial buffers prior to the pandemic made Viet Nam more resilient to the shock.
The IMF suggested macroeconomic policies need to remain supportive in 2021 to ensure a resilient and inclusive recovery and policies should aim at reducing labor informality by improving labor skills and lowering hiring/firing costs for formal workers, and encouraging firm formalization.
A sustained recovery also hinges on safeguarding financial stability, the annual assessment stressed, adding that continued strong supervision, together with timely efforts to address problem loans and strengthen regulatory and supervisory frameworks, will help address financial system risks.
More decisive reforms are needed to make the most of Viet Nam's considerable growth potential, the IMF recommended.
Meanwhile, priority should be given to improving the business environment and ensuring a level playing field for small and medium-sized enterprises, with reforms geared towards reducing regulatory burden faced by firms, improving their access to resources, enhancing governance and access to technology and innovation, and reducing skills mismatches.
By Thuy Dung