IFC vows to boost private sector growth in Viet Nam
VGP - International Finance Corporation (IFC) expects to continue cooperating with Viet Nam in such spheres of labor capacity building, private sector growth and climate change adaption, a senior official from the World Bank Group's private sector arm said.
April 16, 2022 6:49 AM GMT+7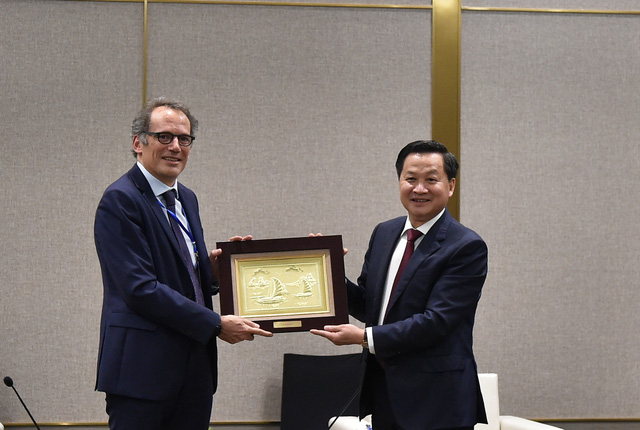 IFC Regional Vice President for Asia and Pacific Alfonso Garcia Mora made the above statement during his meeting with Vietnamese Deputy Prime Minister Le Minh Khai in Ho Chi Minh City on April 15.
In addition, the IFC hopes to further coordinate and share experiences with Viet Nam in other sectors including green conversion, investment, finance and banking as well as uphold the role of the private sector in sustainable development, Garcia Mora noted.
He spoke highly of the Vietnamese Government's economic management capacity in the COVID-19 pandemic time, as evidenced by positive GDP growth and tamed inflation.
For his part, Deputy PM Le expressed thanks to the IFC's contributions to Viet Nam's socio-economic development, especially in terms of policy making and provision of financial resource.
Le suggested the IFC's Regional Vice President hold working sessions with Viet Nam's localities such as Ho Chi Minh City, Hai Phong City and Thanh Hoa Province to support these localities in launching public-private partnership (PPP) projects and getting access to long-term finance for infrastructure development.
He also called on the IFC to continue assisting the Vietnamese Government in realizing its commitments at the 26th UN Climate Change Conference of the Parties (COP26), and coordinate with the State Bank of Viet Nam to implement the bank restructuring and non-performing loan settlement project.
Active in Viet Nam for more than 20 years, IFC has been a key partner in the development journey of the country and its private sector, channeling US$13.3 billion into more than 190 projects since its first in-country investment in 1994.
As of June 30, 2021, IFC's committed portfolio in Viet Nam reached nearly US$1.9 billion (including mobilization). According to IFC estimates, Viet Nam's climate-smart business investment potential is at US$753 billion by 2030 as the country transitions to a climate-resilient and low-carbon economy.