Hue – home of finest Vietnamese cuisine
VGP –Hue, the former capital of Viet Nam, is famous for its natural beauty and historic sites. The central city is also wellknown as a land of rich traditions and friendly people.
February 13, 2021 9:20 AM GMT+7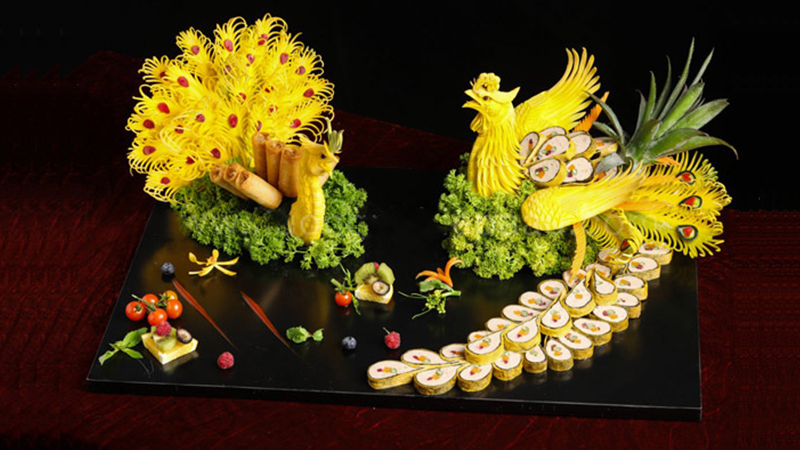 Peacock imperial pie (right) and phoenix patties are two of many delicious and beautiful Hue royal dishes.
But to top it off, the city is home to almost 1,700 of the country's 3,000 traditional dishes from three different lines: royal cuisine, folk cuisine and vegetarian.
With a flourishing monarchy reigning for more than a century from 1802 to 1945 during the Nguyen Dynasty, royal cuisine is known for its exceptional refinement that can be found from preparation to presentation.
Hue royal cuisine uses the finest ingredients served as eye-catching offerings in a harmony of colour, taste and the principles of fengshui.
Among the delights served in the royal court were eight precious dishes known as peacock imperial pie, phoenix patties, rhino skin, bear's paw, sambar deer tendons, orangutan lip, elephant's foot and swiftlet nests which all come with beautiful and meaningful names.
The dishes were creative and fragrant and presented beautifully for the king's pleasure with great efforts made carve fruit and vegetable.
There is a silent rule in Hue that local people eat with their eyes and noses before their mouths.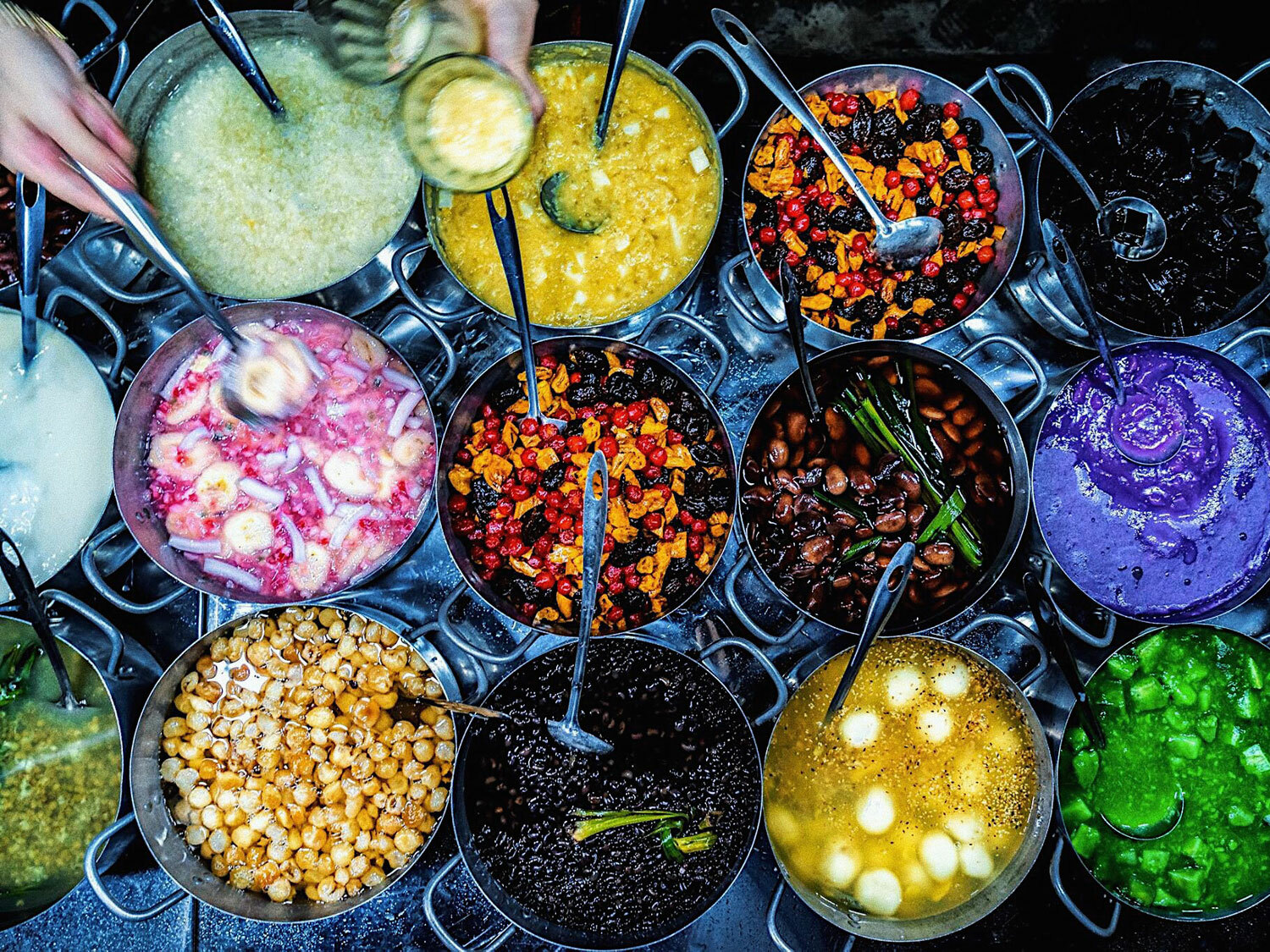 Sweet soup is available in all corners in Hue
Also, the use of plates, bowls, chopsticks and others utensils must follow certain regulations from the dynasty.
"Hue royal cuisine is delicate and elegant. The ingredients are carefully chosen and cooked in a sophisticated way. The food is healthy and follows the Vietnamese philosophy which balances yin and yang," said Phan Thanh Hai, director of the Hue Relic Preservation Centre.
Meanwhile, culinary artisan Ton Nu Thi Ha said the special way of using spices also made Hue royal cuisine different.
"Hue royal food has a special flavour thanks to the way we use spices. Spices are added to the food while the ingredients are combined, cooked and served," said Ha, whose ancestors were members of the royalty.
For the full experience tourists can rent royal costumes and be served royal meals together with wonderful folk music at a range of fine-dining restaurants in the city.
While imperial cuisine caters only for small numbers, Hue folk food can be enjoyed in restaurants off the streets, where you can sit comfortably and eat and drink at leisure.
These dishes have a rustic flavour created by local people who have handed the recipes down through the generations.
According to Hue-born culinary artist Phan Ton Tinh Hai, the principle of the Viet Nam Culinary Arts School, Hue food represents historical and cultural values as well as local habits and customs with its unique taste. It has been developed as a brand for Hue in particular and Viet Nam in general.
Hai said Hue cuisine attracted people thanks to its clear and strong flavours. It is also often distinguished from other regions' cuisines by the use of ingredients such as fish sauce, shrimp paste and soy sauce mixed with vegetables and fresh herbs such as lemongrass, basil, red chilies and mint.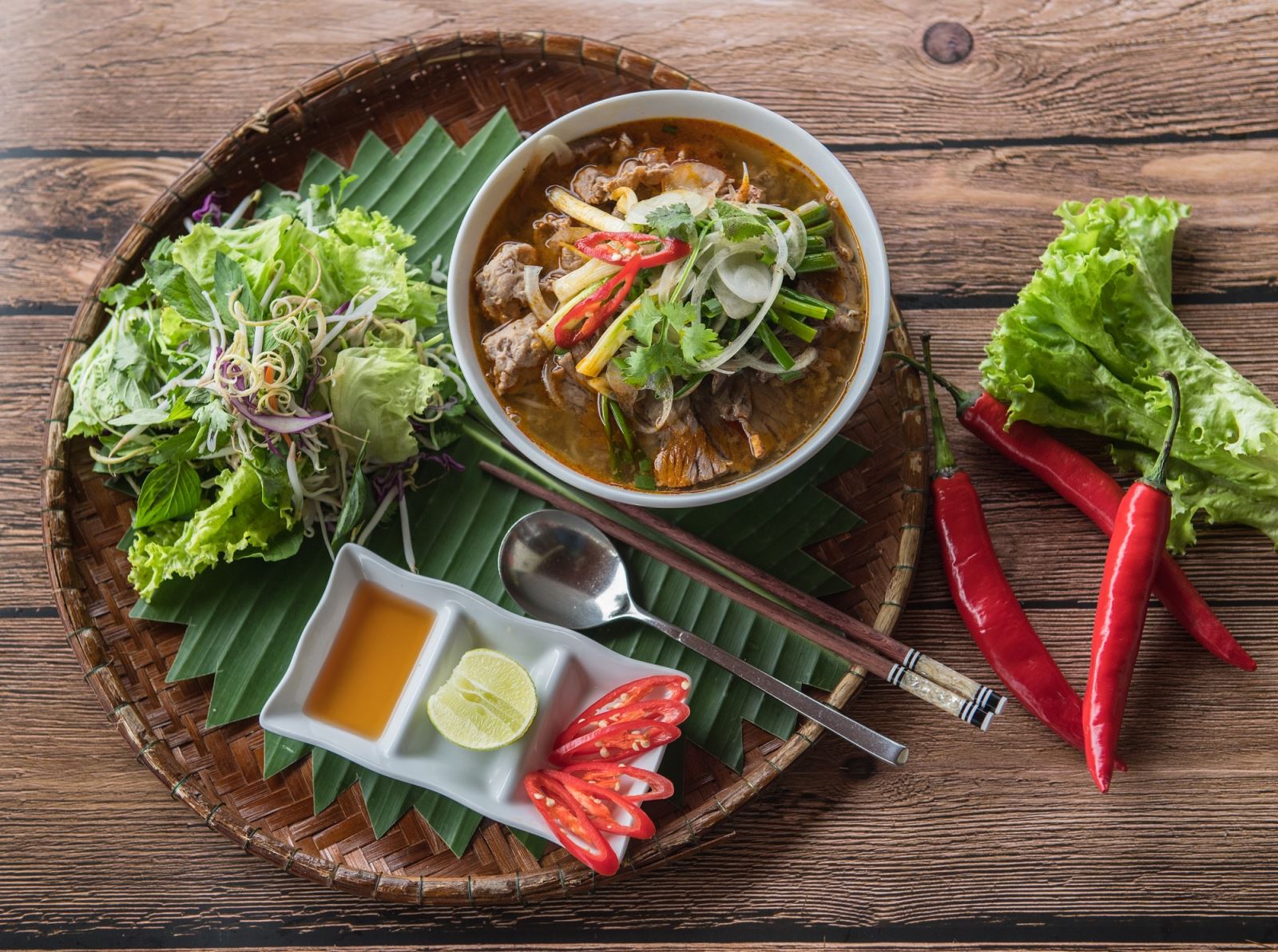 Among many rustic and folk plates of the former city, bun bo should be the star
Among the most popular dishes in the city are bun bo (beef noodles), com hen (rice with mussels), banh beo (steamed rice cakes with grilled shrimp), banh bot loc (dumplings with shrimp), banh khoai (fried rice pancake), banh cuon thit nuong (BBQ pork wrapped in rice paper), and che hat sen (sweet lotus seed pudding).
Moreover, Hue also has a rich collection of vegetarian food with around 125 dishes.
In ancient times, Buddhism flourished and was the state religion during the feudal period. Many people were vegetarian, including the royalty, so the vegetarian cuisine in Hue is particularly special.
Vegetarian food and restaurants can be easily found in any corner of the city while large pagodas such as Dieu De, Thien Mu and Giac Hoang all have a variety of vegetarian dishes.
Local chefs would hold parties with dozens of dishes looking like works of art made from rice, tofu, vegetables and fruit.
The city also offers more than 30 types of che (sweet soup) made from coconut milk and various ingredients, including pomegranate, taro and sweetcorn.
The most popular che in Hue is the lotus seed sweet soup which contains lotus seeds and green rice flakes in a sweet broth. Thanks to its cooling properties, locals often have it in the summer to combat the heat but you can enjoy this pretty much any time of the year.
"Hue cuisine features different cultural values of knowledge, lifestyle, customs and decorative arts, among others. The culinary art has been created and recreated through different periods of history and maintained till today," said Le Thi Minh Ly, director of the Viet Nam Center for Research and Promotion of Cultural Value.
Le Huu Minh, acting director of Thua Thien-Hue Province's Tourism Department, said: "The imperial city of Hue is home to many intangible cultural values. The cuisine there is the most interesting and the finest among the cities and provinces in Viet Nam."
The provincial People's Committee has approved a plan themed "Hue – Food Capital" until 2025, with a vision to 2030.
Under the plan, Hue cuisine will become a signature feature for the city and special dishes will get their own trademarks. Authorities, researchers and businesses will work closely to develop the brand, while restaurants and eateries serving authentic Hue dishes will put up signature boards for visitors to recognise.
Visitors to Hue should be offered a chance to explore the local food, visit farms that provide the ingredients and observe the meal preparation and cooking processes.
The plan also includes a proposal to build a food museum which will offer spaces for studying and displaying food and an area to watch culinary performances./.
By Ha Giang