Huế architecture has 3D display
VGP - The Huế Relics Preservation Centre and its partners have completed a project to produce 3D images that feature historic architecture, marking a new step forward in restoration work for Việt Nam.
February 19, 2012 1:06 PM GMT+7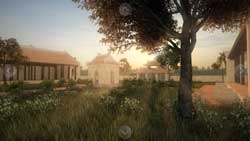 Võ Thánh Temple in Huế
The images use real-time rendering technology to depict Võ Thánh Temple, one of the city's most popular ancient relics, built in 1835 under the Minh Mạng reign.
Designed by architect Nguyễn Phước Thiện and his staff of software designers of the Hồ Chí Minh City University of Architecture, in-co-operation with the centre's cultural researchers, all of the images contain sound and light effects.
Touch screens on computers are used to sketch highlights or list feedback points that can be immediately duplicated on the screens during real-time discussions among users.
According to the Hue Relic Preservation Center, the project is part of the centre's long-term programme to preserve and expand the values of Huế's history, culture and architecture./.