How Viet Nam responds to third wave of coronavirus
VGP – The third wave of coronavirus began on January 27 when local infection cases were detected in Hai Duong's Chi Linh City and Quang Ninh-based Van Don International Airport.
February 28, 2021 7:05 PM GMT+7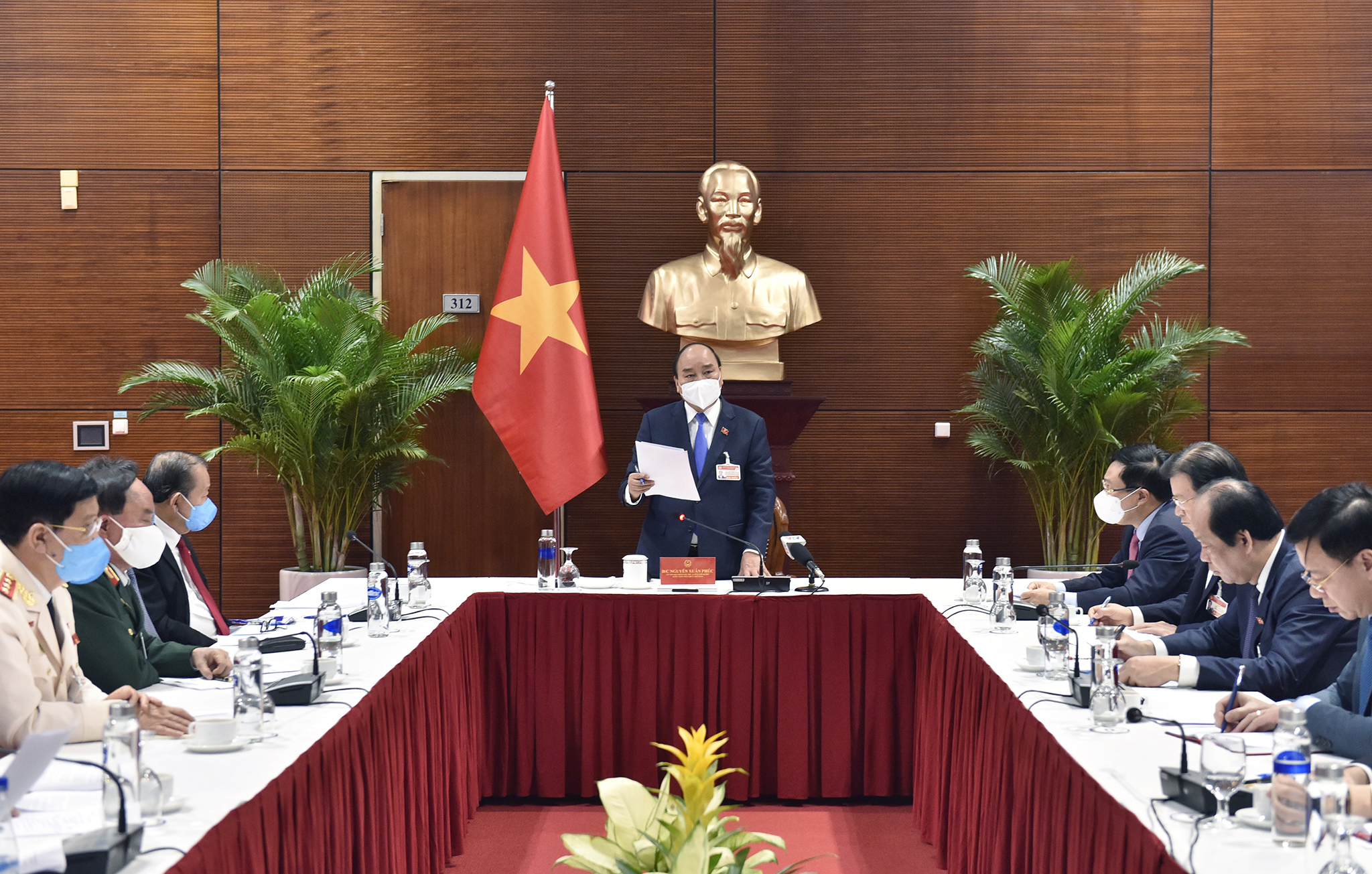 Prime Minister Nguyen Xuan Phuc (middle) presides over a meeting on COVID-19 response at the National Convention Center, Ha Noi, January 28, 2021. Photo: VGP
>>> Seventeen localities re-open schools from Monday
It is worth noting that these cases were infected with new variant first seen in the UK and the new outbreaks occurred just days before the Lunar New Year festival.
Right on the same day, Deputy Prime Minister Vu Duc Dam, Head of the National Steering Committee for COVID-19 Prevention and Control convened two separate meetings with leaders of Hai Duong and Quang Ninh Province, during which he stressed that response measures must be faster and more drastic.
Dam urged Hai Duong to stay focused and strive to control the new COVID-19 cluster within 10 days.
Prime Minister Nguyen Xuan Phuc, who was attending the 13th National Party Congress, presided over a meeting on January 28 with the participation of Deputy Prime Ministers and members of the National Steering Committee.
The Government chief ordered subordinate levels not to waste a minute in zoning off the pandemic-hit area and conducting rapid contract tracing with a decisive attitude.
Later the same day, Phuc signed Directive No. 05/CT-TTg on urgent measures to prevent and control COVID-19, creating a legal basis for subordinate levels to deal with the resurgence of local COVID-19 transmissions.
On January 30, PM Phuc chaired the second meeting on COVID-19 response at the International Convention Center – the venue of the 13th National Party Congress, during which he emphasized that one of the foremost tasks was to isolate the COVID-19 clusters.
He demanded large-scale testing, contract tracing and serious observation of measures on COVID-19 prevention and control.
Phuc agreed with the proposals to build field hospitals and retrain health workers in a bid to enhance the treatment capacity.
He asked localities where new local infection cases were reported to impose social distancing only in high-risk areas in order to achieve the dual goal of COVID-19 containment and economic recovery.
Rapid isolation, rapid screening tests
Thanks to quick support from the Ministry of Health, Hai Duong authorities quickly identified the affected area and found that the new COVID-19 patients were infected with the new strain (B.1.1.7) on January 28.
As this is a more transmissible strain, Hai Duong expanded isolation area, scaled up collection of test samples, and accelerated screening tests.
When new outbreaks were recorded in Cam Giang, Kinh Mon and Hai Duong City, fast and tougher measures were introduced to prevent the spread of the pandemic.
However, when the outbreaks were gradually put under control in Hai Duong and Quang Ninh, other 11 other localities including Ha Noi, Ho Chi Minh City, Hai Phong reported cases.
Thanks to large-scale screening and rapid contract tracing, almost all new cases recorded in the second half of February were F1 individuals who had been quarantined or in lockdown areas.
Foremost priority
Speaking at a meeting on COVID-19 response on February 15, Prime Minister Nguyen Xuan Phuc stressed that importing COVID-19 vaccine was one of the Government's foremost priority.
He ordered the Ministry of Health to make vaccine available right in February.
The first batch of 117,600 COVID-19 vaccine arrived in Ho Chi Minh City-based Tan Son Nhat International Airport on February 24.
It is part of the 30 million doses that the Viet Nam Vaccine Joint Stock Co., will bring in under a deal signed with AstraZeneca in November last year.
The Government expects to have 150 million doses of vaccines this year. Those who will be vaccinated first include health workers, Vietnamese diplomats, customs and immigration officers, essential service workers in such sectors like aviation, transport, tourism, electricity and water supply, among others.
Good news
On the final days of February, many localities have lifted most of their lockdowns. New infection cases have been F1 individuals who have been quarantined or stayed in lockdown areas.
Many localities, including Ha Noi have decided to reopen schools from next week.
The above good news do not mean the end of the pandemic. One of the lessons learnt from the third wave of coronavirus is that we must alway sustain vigilance, stay calm and take fast actions./.
By Quang Minh