HN-Fukuoka direct air route makes debut
VGP – The national-flag carrier Vietnam Airlines (VNA) on Friday kicked off a direct air route between Hà Nội, the capital of Việt Nam, and Fukuoka City in Japan.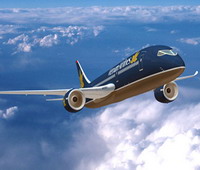 Illustration photo
VNA offers two flights per week, available on every Tuesday and Saturday, to cover the route in about four hours on Airbus A320.
The opening of new route is part of the carrier's plan to better its network in Japan, one of major markets, said Mr. Trịnh Hồng Quang, Deputy Director General of VNA. .
Through direct and convenient flights, the carrier wants to diversify services and improve competitiveness for the sake of its customers; and facilitate exchanges of trade, investment and tourism between Việt Nam and Kyushu.
According to Mr. Quang, VNA is taping another direct route from Hồ Chí Minh City to Fukuoka with two flights per week.
By Kim Anh