Health ministry updates information on Da Nang Covid-19 patient 418
VGP – The Ministry of Health has released more information about the latest Covid-19 (patient 418) in Da Nang City.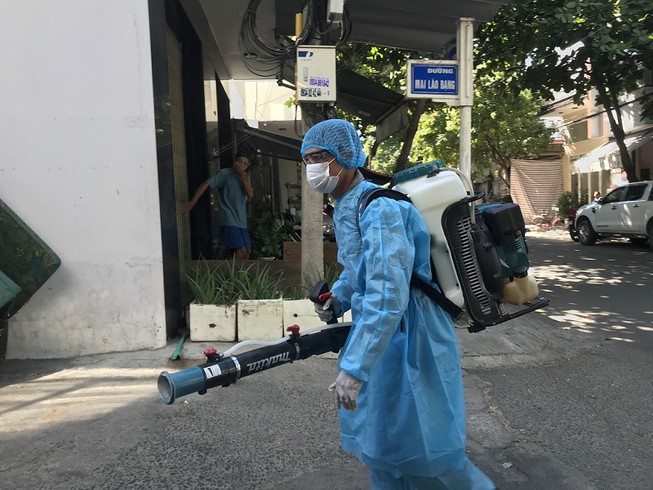 A health worker disinfects the residential area of patient 418
>>> Gov't chief orders large-scale Covid-19 testing in Da Nang, strict border control
>>> One more Covid-19 case reported in Da Nang, total rises to 418
Accordingly, the patient is a 61-year old man living in Thanh Binh Ward, Hai Chau District. He was confirmed positive for the virus on Saturday night and is being treated at the Da Nang Hosipital.
Patient 418 remains in critical condition, thus doctors had to put him on ventilator and extracorporeal membrane oxygenation (ECMO) machine.
After his confirmation, the Municipal Steering Committee for Covid-19 Prevention and Control directed relevant units to quickly trace those who had been in close conctact with the patient.
According to the city's Department of Health, the patient suffers from type 2 diabetes and high blood pressure.
On July 11, he developed such symptoms like cough, fever and tiredness. He asked his son-in-law to take him to a private clinic in Bac Dau Road in Hai Chau District.
On July 18, he was taken to Emergency Department of Hai Chau District Hospital and then moving himself to Da Nang Hospital where doctors found white sputum, shortness of breath.
On July 23, he was taken to extensive care unit of the Da Nang Hospital.
Right after being notified of the case, the Da Nang Center for Diseases Control collected his sample on July 24 and the testing outcomes released the following day showed that he contracted the virus.
His sample was sent to Nha Trang Pasteur Institute and the National Institute of Hygiene and Epidemiology for confirmatory testing. The outcomes also showed that he was positive for the virus.
The ministry said the man only stayed in the city the past month and had no contact with foreigners. He drunk coffee and had breakfirst at shops around his house.
Within 14 days before he was confirmed infected with Covid-19, he visited his father at the Da Nang Hospital.
The city's health sector is coordinating with police force to trace and collect samples of those having been in close contact with the patient.
In a bid to quickly prevent community transimission, the Ministry of Health on July 25 sent three special teams to the city to help contain the outbreak./.
By Quang Minh