Health declaration mandatory for incoming travelers from Cambodia
VGP – Incoming travelers from Cambodia shall have to fill in health declaration form since March 5, said Deputy Minister of Health Nguyen Thanh Long.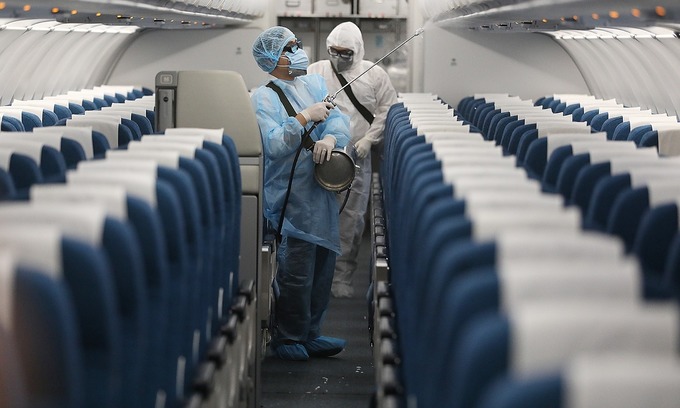 A staff disinfects a craft of the Viet Nam Airlines to ensure hygiene and safety for passengers
>>> Latest update on Gov't responses to COVID-19 epidemic
The move was introduced after a Japanese passenger, who transited in Ho Chi Minh City before flying home, was tested negative for the virus.
The passenger was on a Viet Nam Airlines' flight from Siem Riep to Ho Chi Minh City on Tuesday and then taking a connecting flight on the same airline to Japan. As he landed at Japan's Nagoya Airport, the passenger showed symptoms of high fever and was taken to local hospital.
Earlier, authorities also requested mandatory heath declaration for travelers from China and South Korea and from COVID-19 affected areas of Iran and Italy.
The epidemic is spreading quickly across the world, with the outbreaks growing fast in South Korea, Italy and Iran.
At least 80,404 people contracted the virus, including 3,013 fatalities around the world.
In Viet Nam, the situation has been controlled well but competent agencies are preparing for a possible scenario of a large-scaled outbreak with many infection cases./.
By Kim Anh