HCMC gets ready for U.S. investment
VGP - Ho Chi Minh City has remained appealing to foreign investors who are continuing to pour capital into the southern economic hub despite the COVID-19 pandemic.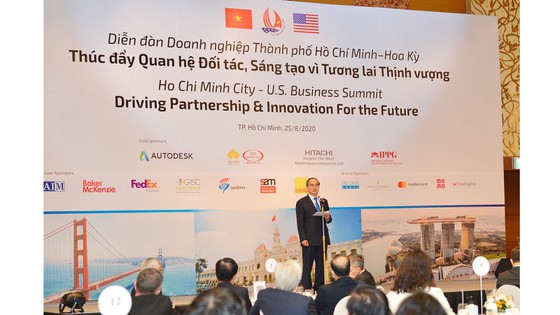 Secretary of the Ho Chi Minh City Party Committee Nguyen Thien Nhan addresses the event
The U.S. Consulate General and the American Chamber of Commerce in Viet Nam (Amcham) and the Ho Chi Minh City administration, co-hosted a forum on August 25 to attract greater U.S. investment into the city.
Speaking at the event, Secretary of the Ho Chi Minh City Party Committee Nguyen Thien Nhan detailed how both Viet Nam and the US have join hands in order to establish a present-day partnership.
Over the past 25 years since diplomatic normalisation, he said bilateral relations have enjoyed substantial development and have gone on to achieve impressive results.
"Viet Nam is the 13th largest trading partner of the U.S., with two-way trade turnover reaching US$77 billion last year. The first six months of this year alone saw bilateral trade hit US$38 billion, an increase of 7% over the same period last year," Nhan said.
The forum is designed to outline specific cooperation orientations between Ho Chi Minh City and the U.S. for the 2020-2025 period, with a further vision towards 2030.
It seeks to increase U.S. investment in the southern city's supply chain of science and technology services, whilst promoting innovation and creativity.
One of the key aims is to develop the southern metropolis into a smart city and an international financial hub, alongside an innovative and interactive urban area to take shape in the Eastern part in the coming time.
With a favourable geographical position, modern infrastructure, and attractive financial incentives, the southern city serves as an ideal investment destination for businesses from various countries globally, including the U.S., France, and Italy.
Most notably, more than 160 U.S. businesses have invested in the city over the past 10 years, bringing in US$64 billion in export value. /.
By Vien Nhu