Hà Nội celebrates 55th anniversary of its liberation
VGP – The municipal government of Việt Nam's capital city of Hà Nội on Friday morning organized a solemn celebration on the occasion of the city's 55th liberation anniversary (October 10, 1954).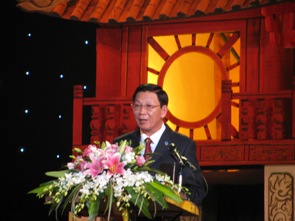 Hà Nội's Mayor Nguyễn Thế Thảo addresses the 55th anniversary of the liberation of the city, October 9, 2009 - Photo: Hanoi.gov.vn
The celebration marked the historical moment when Hà Nội just passed one year after its administrative expansion and is preparing for its millennium next year.
Speaking at the event, Hà Nội's Mayor Nguyễn Thế Thảo stressed that the date of October 10, 1954 is a glorious milestone, opening a new pace for the capital city and the country in general.
So far, Hà Nội has become a leading center of culture, education, and science of Việt Nam, having over 50 universities, hundreds of libraries, research centers and a powerful contingent of eminent scientists, artists and intellectuals.
To make the capital city further advance on its pathway forwards, according to the Municipal Mayor, Hà Nội will focus its efforts on economic development, administrative reforms, and emulative movements in order to engage all walks of life into the city's construction and development.
On the occasion, the municipal government awarded 999 exemplary individuals for their good deeds and contributions to the city in 2009.
By Hoàng Phương