Hà Nội assesses itself one year after administrative expansion
VGP – The 14th Party Committee of Hà Nội is convening its 17th meeting in order to review the one-year realization of the National Assembly's 15th Resolution on administrative expansion of the capital city.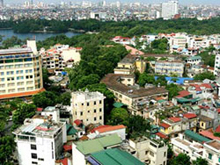 A corner of Hà Nội City
Addressing the opening ceremony on Monday, Hà Nội's Party Secretary Phạm Quang Nghị reiterated that the expansion opens a promising prospective for the capital city's development.
Over the past year, the municipal Party Committee, People's Council and the People's Committee have directed the expansion while sparing no effort to prevent economic downturn, maintain growth rate, macro-economic stability and social security.
The new government apparatus was reorganized properly in order to guarantee uninterrupted performance.
Despite the global economic crisis, Hà Nội still managed to obtain a GDP growth rate of 5.7% in the first nine months of 2009.
The meeting also discussed the programs to prepare for the city's millennium and some major tasks to be conducted in the remaining quarter.