GPD expands at 5.6% in first half
VGP - The national economy expanded by 5.6% in the first six months and saw positive signals, including shrinking inflation, reported the General Statistics Office (GSO).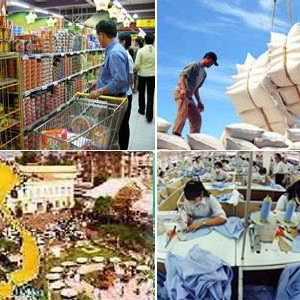 Illustration photo
The country's industrial production reached VND 418 trillion in the reviewed period, or an increase of over 14% against the same period last year.
Exports of US $42.3 billion were up 30%, dominated by garments, footwear, rubber, and aquatic products. It included an addition of US $2.7 billion, stemming from rising prices of such cash earners as cashew, coffee, pepper, coal, and crude oil.
Total retail sales of commodities and services were estimated at VND 912 trillion, up 22% against the same period last year.
Such positive signals cannot outpace existing difficulties.
Despite going down gradually, inflation still posed hurdles to production and business.
Tightened fiscal and monetary policies as well as high lending interest rates also adversely affected the business community.
Trade deficit still widened with import value of US $49 billion, up 25% over the same period last year.
Total foreign investment inflow fell dramatically with US $5.7 billion coming in the reviewed period and disbursement dropping by 1.9%.
The current situation requires stronger efforts to slash down inflation to secure macro-economic stability, said the Ministry of Planning and Investment (MPI).
Other remedies include stricter control over public investment cut, reinforced regulation of markets and prices, and facilitation of production, MPI said.
By Hải Minh