Gov't works with "super" State capital management agency
VGP – Prime Minister Nguyen Xuan Phuc on Tuesday presided over a working session with the Committee for Management of State Capital at Enterprises (CMSC) to seek ways to handle obstacles faced by the agency and affiliated enterprises.
July 17, 2019 4:13 PM GMT+7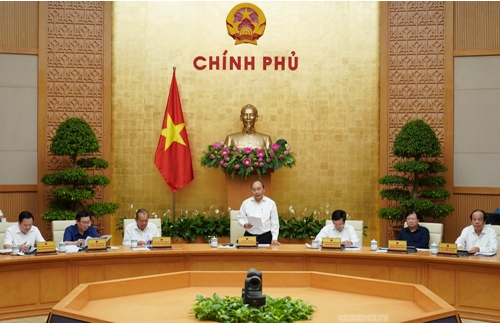 PM Nguyen Xuan Phuc chairs a working session with the Committee for Management of State Capital (CMSC), Ha Noi, July 17, 2019 - Photo: VGP
This is the first working session of the Cabinet with the CMSC since it officially made debut on September 30, 2018.
The CMSC is responsible for improving the operation efficiency of the SOEs and ensuring efficient use of State capital.
At present, the CMSC manages total assets of VND 2.3 quadrillion of 19 SOEs that are playing a important role in economic growth, job generation and budget collection.
According to a report by the Committee, revenues of the 19 SOEs increased by 15%, pre-tax profit rose by more than 21% while budget contribution grew by over 31%.
Speaking at the event, PM Phuc spoke highly of the Committee's efforts in consolidating internal organization and performing its duties over the past ten months since its inception.
He urged the "super" agency to further improve its operational effectiveness and take greater role in the process of restructuring the SOEs.
Particularly, the Committee needs to focus on improving legal framework to facilitate the handling of shortcomings and prolonged barriers faced by the transferred enterprises, said Phuc.
He requested the Committee to intensify supervision in order to prevent corruption throughout the restructuring and re-arrangement of the SOEs.
The Government chief also urged leaders of the SOEs to improve governance capacity, set up strategic business units to craft long-term development strategies.
By Thuy Dung