Gov't to consider amendments to Decree 38 on food safety early next month
VGP – Minister-Chairman of the Government Office Mai Tien Dung said the amendments to the Decree No. 38 guiding the implementation of the Law on Food Safety will be submitted to the Government early next month.
January 22, 2018 7:19 PM GMT+7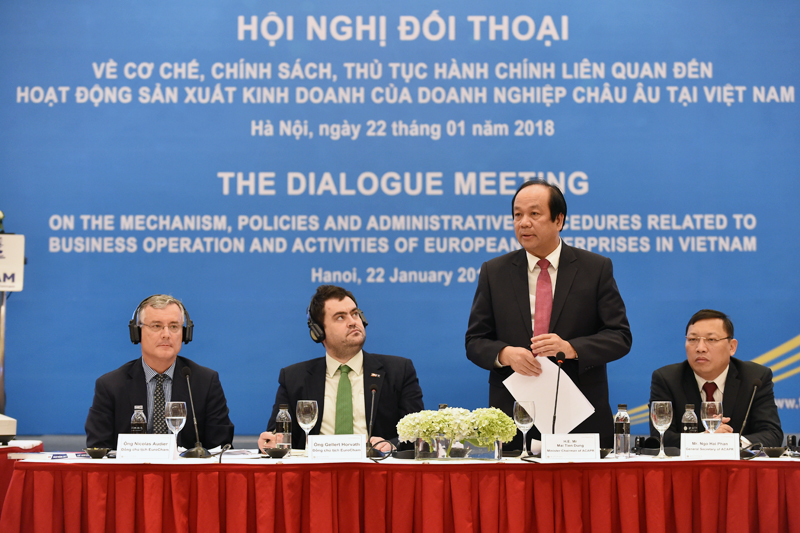 Minister-Chairman of the Government Office Mai Tien Dung (standing) speaks at the dialogue attended by leaders of central ministries and agencies and European business representatives in Ha Noi on January 22, 2018. Photo: VGP
Dung told delegates to the dialogue on mechanisms, policies, and administrative procedures related to business operation and activities of European enterprises in Viet Nam, which took place in Ha Noi this afternoon.
This is the first dialogue held by the Advisory Council for Administrative Procedures Reform (ACAPR) this year and the fourth so far.
Once the revised Decree approved, it will come into effect immediately, said Dung, who is also the Chairman of the ACAPR.
There will be comprehensive changes in specialized inspection procedures applicable to imports, said Dung, adding that only the number of procedures may be reduced by 90-95%.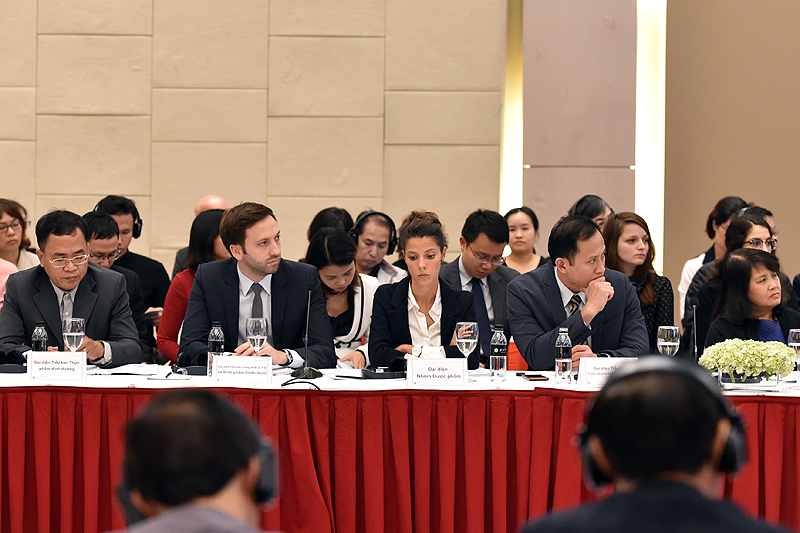 Delegates to the dialogue. Photo: VGP
The Government of Viet Nam has demonstrated strong determination to reform administrative procedures and improve business environment. On January 15, PM Nguyen Xuan phuc signed Decree No. 08 to cut 675 business conditions or 55% of the business conditions under the management of the Ministry of Industry and Trade.
After the Lunar New Year, the Government chief will preside over a conference on logistics in a bid to seek ways to reduce costs for enterprises in this area, according to Dung.
The Government Office on January 10, 2016 launched a system to collect enterprises' proposals and recommendations and around 1,000 of which have been settled.
Thanks to the Government's endeavor, Viet Nam's business environment jumped 14 places in 2017, according to the World Bank.
This year, PM Phuc tasked inferior levels, especially the ACAPR to continue efforts to boost administrative procedures reform.
"We wish to learn about feedbacks regarding business obstacles from representatives of more than 1,000 European enterprises," said Dung./.
By Huong Giang