Gov't supports economy through effective monetary, fiscal policies: WB economist
VGP - The government of Viet Nam has certainly tried to support the economy through its efficient and effective monetary and fiscal policies, said Senior Economist at the World Bank (WB) Viet Nam Dorsati Madani in a recent interview with VGP.
September 04, 2023 4:47 PM GMT+7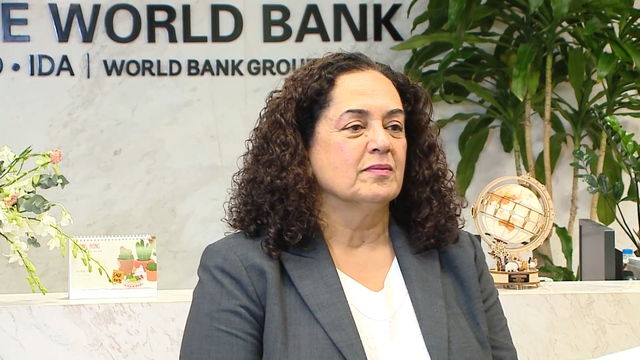 Regarding Vietnamese Government's efforts in coping with global challenges in the first half of its five-year term, Dorsati Madani said, in 2022, Viet Nam launched a socio-economic recovery and development plan.
The year before that in 2021, the Government issued an Action Program to implement the Resolution on the 2021-2025 socio-economic development plan.
The issuance and effective implementation of these two plans have manifested the Government's intent and determination to support the economy, she noted.
In 2023, the Vietnamese Government has tried to push out public investment to increase. Public investment is expected to increase by 9.5 percent year-on-year, contributing 0.6 percentage points to GDP growth but only partially offsetting lower private investment.
Under the monetary side, the State Bank of Viet Nam (SBV) has been closely monitoring the situation and the SBV has been responsive to the changing environment.
The SBV has managed to support the economy when necessary, including the latest decreases in interest rate to increase credit growth and boost economic activities between March and June of 2023.
In term of the Government's efforts in reforming administrative procedures, she spoke highly of a number of policies, including extending visitor e-visas' validity for foreigners entering the nation from 30 to 90 days and granting e-visas to all foreign arrivals from mid-August.
Viet Nam is obviously a very attractive destination for many foreign tourists, she noted, adding that the nation welcomed more than 7.8 million international visitors in the first eight months of 2023, equivalent to 97.5 per cent of the year's target and reaching nearly 70 per cent of the level seen in the same period in 2019 before the COVID-19 pandemic happened.
"So there is still room for tourism to grow and we expect it to continue going forward for the rest of the year. The waiving of the visa will facilitate the potential recovery of the tourism sector", she emphasized.
Domestic demand-main driver of growth
According to Dorsati Madani, Viet Nam's economy is being tested by internal and external factors, including slowdown in exports, and slowing domestic economy.
To promote economic growth, the government can support aggregate demand through effective public investments, thereby creating jobs, and stimulating economic activity.
Investment, exports, and domestic consumption are key drivers for Viet Nam's economic growth, she stated, adding that domestic demand is expected to remain the main driver of growth in 2023.
Private consumption will remain solid, with growth of 6 per cent year-on-year, contributing 3.4 percentage points to GDP growth.
Exports hopefully will recover a little bit in anticipation for 2024, thanks to moderate pick up in the global growth and therefore global demand for Viet Nam's products will rise.
Furthermore, steps to accelerate and improve the efficiency of implementation of public investment would also help address emerging infrastructure constraints to growth, including critical investment needed in the electricity transmission network and in building resilience to climate change.
These steps include setting investment targets and enforcing accountability at different intergovernmental levels for achieving them; focusing on key national investment programs such as national expressway, power transmission, and national target programs, she highlighted.
In addition to public investment, supporting workers and families affected by the slowdown through a more effective social protection system could help support aggregate demand.
To successfully do so, the authorities need to reform the targeting approaches and delivery mechanisms of the social protection system so it might serve as an agile tool to support the vulnerable during economic shocks./.