Gov't strives for over 5% GDP growth rate in 2023
VGP - The Government is sparing no effort to achieve the GDP growth rate of 5 percent in 2023, laying solid foundation for higher growth in 2024, Prime Minister Pham Minh Chinh told legislators Wednesday.
November 08, 2023 7:05 PM GMT+7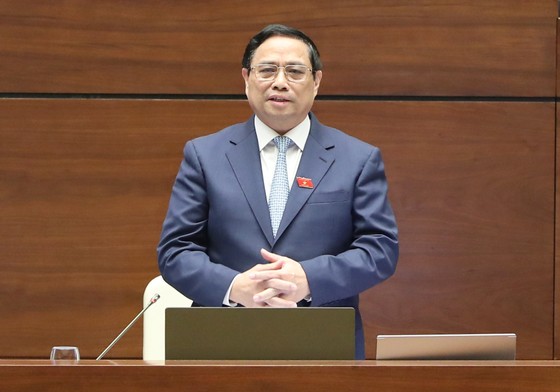 The Government's resolve was amid positive socio-economic performance in the first ten months this year as evidenced in several major indicators such as inflation, foreign direct investment inflows, industrial production, budget revenue, and foreign arrivals.

Earlier this month, HSBC highlighted in its report that Viet Nam started the fourth quarter on a positive note, with exports continuing to stage a gradual turnaround.
According to the bank, the nation's exports continued to gain momentum, growing almost 6 percent year-on-year in October. The signs suggest that Viet Nam is on track to recover from the global trade downturn.
In its recent article, Bloomberg noted Viet Nam, Poland, Mexico, Morocco and Indonesia are five economic "connectors" in a fragmenting world.
All the above nations are strategically positioned to capitalize on the shifting dynamics within global supply chains.
For Viet Nam. the trend of giant electronics manufacturers moving some production lines to the country dates back about a decade, but it has accelerated in recent years.
The U.S. is the destination for about a third of Viet Nam's exports, while China is the largest supplier of raw materials to Vietnamese manufacturers, from machinery to garment raw materials.
Viet Nam officially upgraded relations with the U.S. to a comprehensive strategic partnership in September. The U.S. also announced it helps Viet Nam develop its fledgling semiconductor industry.
Meanwhile, the report, published by Google, Singapore state investor Temasek Holdings, and global business consultant Bain & Company, show that digital payment continues to grow in Viet Nam driven by strong support from the government, investment from commercial banks, and the widespread popularity of QR codes.
Viet Nam's digital economy is expected to grow 20 percent a year in the 2023-2025 period and is on track to reach around US$45 billion by 2025, the fastest pace in Southeast Asia along with the Philippines, according to the report./.