Gov't seeks ways to boost livelihood for 65% population
VGP – Prime Minister Nguyen Xuan Phuc presided over a teleconference Friday to seek ways to foster farm produce processing that involving life of 65% of the country's population.
February 21, 2020 3:14 PM GMT+7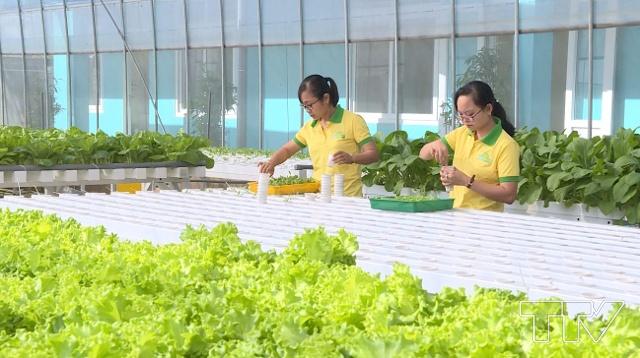 A high-tech vegetable production model in Thanh Hoa province
The event also drew the participation of officials from ministries and localities and business representatives
From a war-ravaged country, Viet Nam has emerged to become one of the world's top rice exporters and many of farm products fetch export turnover of ore than one billion usd each, making agriculture one of the most important sectors in the economy.
Last year, export of farm produce rose by 3.5% to a record high of US$41.3 billion, posting a trade surplus of US$9.9 billion, official statistics show.
However, Viet Nam still exports grapefruits and durian as fresh fruits while Thailand exports products processed from grapefruits and durian such as sweets and candy, thus increasing export value of its farm produce, according to Dang Phuc Nguyen, General Secretary of the Viet Nam Fruit and Vegetable Association.
Post-harvest losses of fruits and vegetables remain high at 30-40%. If we have good preservation technologies, the post-harvest loss rate will decrease, products will have more competitive prices, and farmers' incomes will go up, he said.
Addressing the event, PM Phuc frankly pointed out that agriculture sector's potential remains huge as we have room for improving processing, harvesting and post-harvesting preservation capacity.
In addition, productivity is still lower compared to Thailand due to modest rate of mechanization, he said.
The Government chief underlined the importance of accelerating export of farm produce while increasing investment in deep processing to enhance the sector's competitiveness in the global market.
He asked the Ministry of Agriculture and Rural Development to promptly draft and submit a strategy on mechanization and industrialization of agricultural processing through 2030.
The ministry was also tasked to develop a plan that could help turn Viet Nam into one of the world's top processers of vegetables, aquaculture, and timber.
The Ministry of Science and Technology was assigned to deploy programs to support businesses to upgrade processing and preservation technologies.
By Thuy Dung