Gov't reviews socio-economic performance
VGP – PM Nguyen Tan Dung on July 30 presided over Government's monthly meeting to discuss about the socio-economic performance in July and the first seven months of 2014.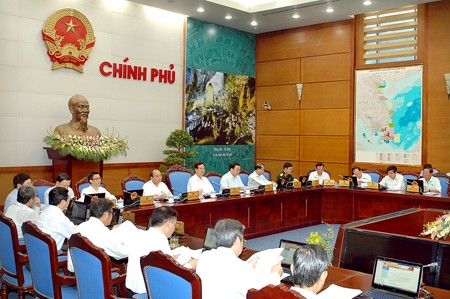 The Government regular meeting takes place on July 30-31, Ha Noi - Photo: VGP/Nhat Bac
During the two-day meeting, the Government will deliberate on the socio-economic performance, the implementation of the Resolution 01/NQ-CP on major tasks and solutions guiding and directing the realization of the Plan for socio-economic development and state budget estimate in 2014; draft tax solutions to support enterprises; and a report on healthcare development mechanisms and policies.
In addition, the Government will also discuss amendments to the laws on special consumption tax and military service; draft laws on labor safety and hygiene, marine resources and environment.
Opening the meeting, PM Dung asked Government members to focus discussions on key issues including economic restructuring, GDP growth, macro-economy, and measures to ease difficulties against businesses without adjusting this year's targets.
According to a report prepared by the Ministry of Planning and Investment, the overall socio-economic performance was positive with tamed inflation rate, stable market and exchange rate, and improving industrial production./.
By Kim Anh