Gov't reviews 10-month socio-economic performance
VGP - Prime Minister Pham Minh Chinh is chairing the Cabinet's meeting on Saturday to review socio-economic performance over the last 10 months of this year.
November 04, 2023 9:24 AM GMT+7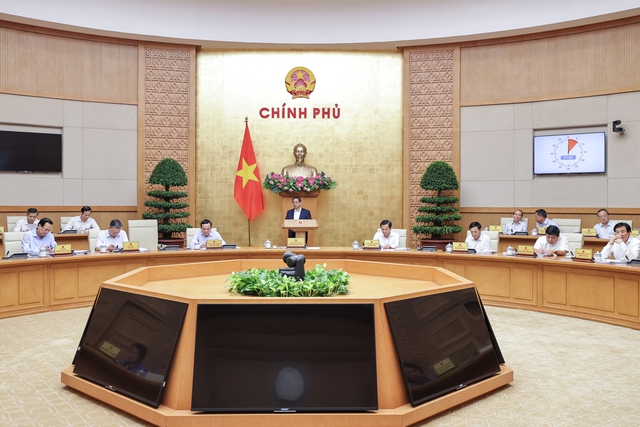 The Cabinet will also discuss the implementation of the socio-economic recovery program, the disbursement of public investment capital, and the realization of three national target programs.
In his opening remarks, Prime Minister Pham noted that Viet Nam faced unprecedented challenges so far this year, notably the lingering impacts of the COVID-19 pandemic, rising geo-strategic and geo-economic competitions, conflicts in Ukraine and Gaza, and other headwines like global rate hikes and inflation, supply chain disruptions, slowdown in global trade and investment and unexpected natural disasters.
The nation's economy is suffering from a "double impact", including adverse external factors and its own limits regarding competitiveness and economic resilience, said Pham.
Given the backdrop, the Vietnamese economy showed encouraging signs. As of October 21, Viet Nam licensed 2,606 new foreign direct investment projects worth US$15.29 billion, up 66.1 percent in number and 54 percent in capital in comparison with the same period last year.

In addition, as many as 1,051 projects have registered to increase their investment capital by more than US$5.33 billion, up 66.1 percent year-on-year.
Foreign investors also pledged to pour over US$5.13 billion in capital contribution and shares purchase in domestic companies, down 5.4 percent against the same period last year but up 35.4 percent in value.
In total, the FDI inflows to Viet Nam reached US$25.76 billion from the beginning of the year to October 21, up 14.7 percent year-on-year.
During the reviewed period, disbursed volume of FDI rose by 2.4 percent year on year to about US$18 billion.
Also in the January-October period, Viet Nam's export turnover was estimated at US$291.28 billion, down 7.1 percent year-on-year.
Import turnover of goods was estimated at US$266.67 billion, down 12.3 percent over the same period last year.
Viet Nam ran a trade surplus of US$24.61 billion in the first 10 months of this year.
Viet Nam welcomed nearly 10 million foreign visitors over the last 10 months of the year, 4.2 times higher than the same time last year./.