Gov't resolves to rein in inflationary factors
VGP – To cope with the post-Tết price escalation, the PM ordered ministries, sectors and local authorities to promptly take some measures to curb inflationary elements.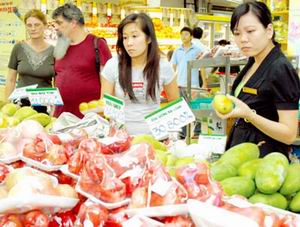 Illustration photo

The Ministry of Industry and Trade (MIT), Ministry of Agriculture and Rural Development, and the Ministry of Construction must balance, within March, the demands and supplies of primary consumer goods, such as rice, gas and oil, fertilizers, cement and steel. They must intervene into the market or propose necessary solutions to prevent the lack of goods and unexpected price hikes.

Provincial-level People's Committees must guarantee the supplies of primary commodities to meet local residents' demand while urging competent forces to strictly manage prices of consumer goods, transport and other services.

The State Bank of Việt Nam must flexibly apply monetary policies to prevent high inflation rate and ensure the liquidity of the economy and the banking system. At the same time, it is necessary to control the trading in gold and foreign currencies.

Besides, the MIT and the Ministry of Finance need to provide aid to disadvantaged and vulnerable groups; tighten their management over prices and market; and strictly punish all violations.