Gov't reports socio-economic performance
VGP – Deputy PM Nguyen Xuan Phuc on May 20 in Ha Noi presented a supplementary report on Viet Nam's socio-economic performance in 2012 and the first four months of this year.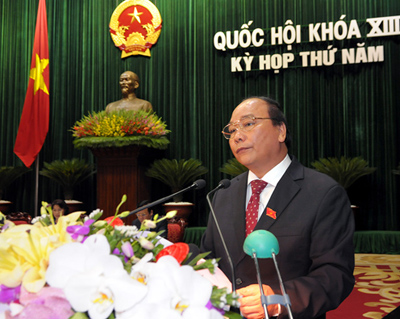 Deputy PM Nguyen Xuan Phuc presents supplementary report on socio-economic performance in 2012 and the first four months of this year, Ha Noi, May 20, 2013 - Photo: VGP/Nhat Bac
Mr. Phuc said although the socio-economic situation is moving in the right direction, it remains slow and fragile.
It is forecast that Viet Nam will still face challenges in socio-economic development while the global economic climate remains uncertain.
In the coming months, the Government set the goal of enhancing macro-economic stability, curbing inflation, gaining higher growth than that of 2012, dealing with difficulties in production and trade, dealing with bad debts and developing markets.
It will effectively restructure the economy, ensure social security and welfare, boost natural disaster prevention, protect the environment and cope with climate change, speed up administrative reforms, improve the efficiency of State management and external relations work while strengthening the fight against corruption and wastefulness, as well as national defense and security.
The Government requires the NA, the Viet Nam Fatherland Front (VFF), mass organizations and people across the country to enhance supervision and collaboration to forge synchronous and positive progress in various sectors, towards successfully realizing this year's socio-economic development goals, contributing to the success of the 2011 – 2015 socio-economic development scheme.
The NA Committee for Economic Affairs underlined the need to implement economic growth and inflation control targets for this year in an effective and harmonious manner in the context of implicit economic uncertainties.
Also the same day, President of the VFF Central Committee Huynh Dam presented a report collecting opinions and proposals from voters and people across the country on issues of their concern./.
By Khanh Phuong