Gov't report: Over 450 SOEs rearranged
VGP – The Government has rearranged 464 State owned enterprises, including 404 equitized over the past years, Deputy PM Nguyen Xuan Phuc told legislators on Monday.
November 16, 2015 4:11 PM GMT+7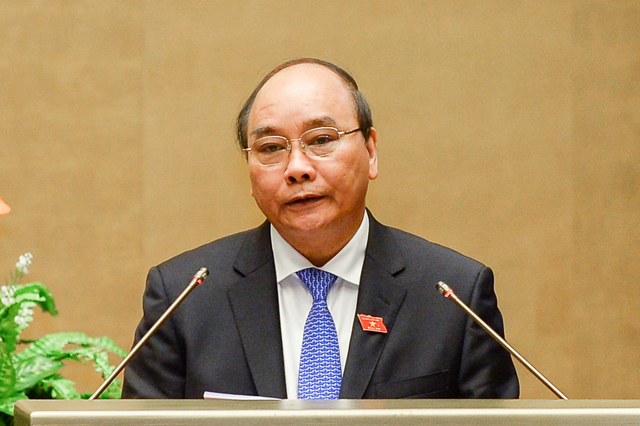 Deputy PM Nguyen Xuan Phuc presents the report at the NA's accountability hearing, November 16, 2015 - Photo: VGP/Le Son
In a report presented to the National Assembly's ongoing accountability hearing, Deputy PM Phuc said the Government has deployed comprehensive measures to improve the business environment and national competitiveness, striving to bring the country's business environment index closer to the average level of ASEAN-6.
The Government has doubled efforts in realizing three strategic breakthroughs, making the national economic structure change positively with industry and service share rising to 82.5% in 2015 from 79.9% in 2011.
However, Deputy PM Phuc acknowledged that public management regulations have not been strictly complied, leading to an increase in total investment capital, slow progress and efficiency in this area.
Economic restructuring has been slowly carried out while some ministries, agencies failed to meet the deadline of rearrangement and equitization. The equitized capital rate remains low.
The Government report also highlighted significant changes in the tax sector. Statistics show that the time required for tax payment reduced by 420 hours.
More than 98% businesses used online tax declaration procedures and 80% businesses registered to pay tax via an e-payment system, the report says.
The total revenue of the insurance market rose 17% on average annually between 2011 and 2015, accounting for 2% of this year's GDP. The interest rate level fell by 40% in 2015 compared to that of five years ago.
The report also reveals that credit outstanding jumped 12.6% annually from 2011 to 2014. The figure is expected to increase 17% this year, mainly channeling to prioritized areas.
Cross ownership has been basically controlled and addressed in the banking system meanwhile the number of credit organizations has been reduced by 17 as part of the Government efforts to make the banking sector healthier and the efforts have been reflected in international rating organizations.
The Government, however, admitted challenges in restructuring weak commercial banks and settling bad debts. The quality of credit, administration and banking services has been slowly improved to meet the international practices and the country's international economic integration./.
By Huong Giang