Gov't pushes on inflation control
VGP – The PM today signed a document requiring all business organizations and individuals to strictly observe price regulations and take measures to narrow trade gap.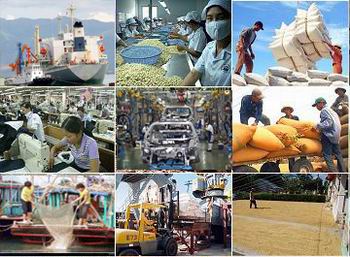 The Government resolves to rein in inflation while promoting production

The document was released this afternoon, two days after the Government convened its February regular meeting on securing macro-economic stability, controlling inflation, and stabilizing prices in the market.

A week ago, a similar document was issued, stressing the realization of resolutions to curb inflation in 2010.

The Government chief orders the Ministry of Finance (MoF) to tighten its supervision over the enforcement of the Ordinance on Price, especially with such essential goods and products like transport, cement, steel, fertilizers, rice, milk, and medicines; to force business organizations and individuals to fully follow regulations on price registration, posting prices, and selling at the posted prices; and to strictly punish all violations against price management.

The Ministry of Industry and Trade (MIT) will coordinate with the MoF to immediately inspect the adjustment of the selling price of petroleum; at the same time proposing reasonable revisions and supplements to regulations on trading in petroleum.

The State Bank of Việt Nam will apply monetary policies so as to guarantee macro-economic stability and capital for economic growth.

The MIT is assigned to shake hands with the Ministry of Agriculture and Rural Development and the Ministry of Health to continue measures to slash down the excess of import over export, including appropriate technical barriers to the import of unnecessary consumer goods.