Gov't proposes 12 solution groups for economic restructuring
VGP – Minister of Planning and Investment Bui Quang Vinh, authorized by the Prime Minister, on Monday presented a draft project on comprehensive economic restructuring at the on-going working session of the 13th National Assembly.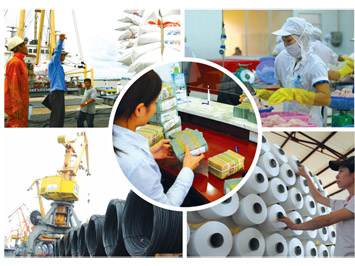 Illustration photo
The project covers 12 groups of solutions as follows:
1. Improving quality of planning, combining strategies with planning schemes and plans, improving the efficiency of State management over development planning schemes;
2. Restructuring the financial market, stabilizing macro-economy, accelerating and assisting the restructuring of economic branches and regions, contributing to sustainable growth;
3. Restructuring and improving socio-economic effectiveness of State investment;
4. Restructuring SOEs, at the same time, enhancing quality of private and foreign-invested enterprises;
5. Perfecting market-oriented institution and improving business environment to mobilize and enhance investment efficiency;
6. Renovating preferential and encouraging investment regime as well as management regulations to draw and orient domestic and foreign investment in favor of prioritized sectors and industries.
7. Conducting synchronous programs which support interdisciplinary production complexes to produce prioritized products under the direction of the central government (regarding goals, resources, mechanism, ways of implementation, supervision, assessment, supplement, adjustment) towards higher scientific content and higher competitiveness;
8. Upholding advantages of each region, transforming and establishing an economic structure in appropriate, diversified and developing manner;
9. Renovating the modes of agricultural production towards larger scale, specialization, application of modern technologies, higher labor productivity and better living condition in rural areas;
10. Improving the quality of manpower in favor of the economic restructuring;
11. Developing science and technology;
12. Resolving social and environmental issues./.
By Huong Giang