Gov't pledges to continue incentives for long and medium loans
VGP – At its regular meeting for November, the Government adopted the plan on socio-economic development for 2010, pledging to continue providing interest rate incentives for long and medium-term loans in order to stimulate growth.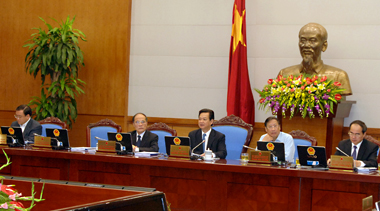 PM Nguyễn Tấn Dũng (center) and his deputies preside over the Government's November regular meeting, Hà Nội, December 1, 2009 – Photo: VGP

All members of the Government were unanimous that the socio-economic situations in November continued to see positive signals of recovery, especially shown in industrial sector and domestic market.

Last month, industrial production value grew up 13% against November last year. The growth rate reaches 7.3% in 11 months in comparison to the same period of 2008.

The domestic consumption has significantly recovered when the total retail sale increased by 18.5% against the same period last year.

In the 11 months, 765,000 new enterprises have registered their operation, up over 28% compared to the same period.

The Government asserted that the future changes in the world economy will directly affect the national economy which will surely face many difficulties and challenges, especially in export and attracting foreign direct and indirect investments.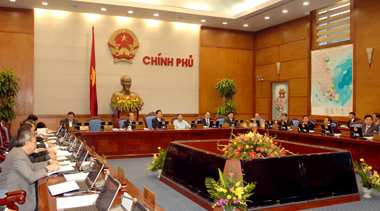 The Government opens its November regular meeting in Hà Nội, December 1, 2009 – Photo: VGP
Right at the meeting, PM Nguyễn Tấn Dũng made a series of decisions to stimulate economic growth.
The Government chief decided to stop interest rate incentives applied for short-term loans by December 31, 2009).
For long and medium-term loans and loans for purchasing machinery, equipment and agricultural input materials, proper adjustments will be announced soon.
It is important that, stressed the PM, "all sectors, echelons and the whole people should do their best to make full use of opportunities and overcome difficulties to realize the set targets of 2009 and 2010."
Việt Nam targets the economic growth rate of 6.5% and the inflation rate at about 7% next year.
By Xuân Hồng