Gov't convenes September regular meeting
VGP – PM Nguyen Tan Dung on September 29 requested that the Cabinet discuss and figure out specific measures to improve the investment and business environment; raise labour productivity; and speed up the economic restructuring.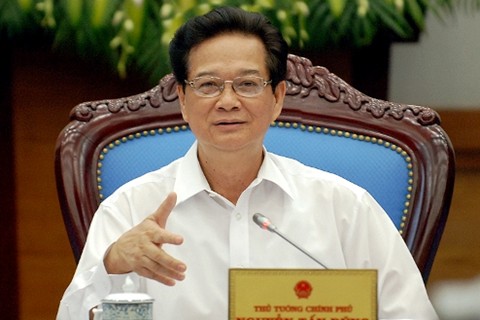 PM Nguyen Tan Dung chairs the Government's September regular meeting, Ha Noi, September 29, 2014 - Photo: VGP/Nhat Bac
Under the PM's chair, the Government held a two-day regular meeting to assess the socio-economic performance in the first nine months and seek measures to realise the full plan in the rest of the year.
The Ministry of Planning and Investment reported that in the January-September period, the domestic economy rebounded in all sectors of which GDP growth rate was estimated at 5.62%.
Industrial production especially manufacturing and processing experienced sharp increase; agriculture surmounted negative impacts stemming from natural disasters and epidemics and expanded at faster space than previous years; the service sector was thriving; trade surplus was maintained; inflation was put under control; consumer price index was kept at low level; market prices were stable; and social security was guaranteed.
Addressing the event, PM Dung said he was delighted that 13 out of the 15 key preset norms have been fulfilled. The rest set by the National Assembly for 2014 included generating 1.6 million jobs and having 51% of labourers trained.
PM Dung proposed the Cabinet discuss and propose specific measures to extricate business difficulties; promote production; and spur growth in all fields.
He also recommended the Government take drastic measures to improve the business and investment environment; raise labor productivity; restructure the economy and implement the three strategic breakthroughs.
A series of reports were put on the table for discussion including those on socio-economic performance in the first nine months and September; the implementation of Government's Resolution 19/NQ-CP on major tasks and solutions for improving the business environment and national competitiveness; the arrangement and equitization of SOEs in the first nine months; the realization of Circular 11/CT-TT on Directive 11/CT-TTg on solving difficulties and recommendations of enterprises and promoting their production and business thus contributing to successfully implementing national socio-economic development tasks towards 2015./.
By Huong Giang